Photography Tour in Nepal
Photography Tour in Nepal
Trip at a Glance
Trip Name: Photography Tour in Nepal
Trip Code: TMTP-14
Trip Duration: 14 days
Activities: Photography tour
Accommodation: Hotel, teahouse
Meals: Breakfast
Transportation: Private car/Jeep/tourist bus, domestic flights
Best Season: Mar-May and Sep-Nov (Other time: Considerable)
Country: Nepal
Group size: Min - 1
Trip Overview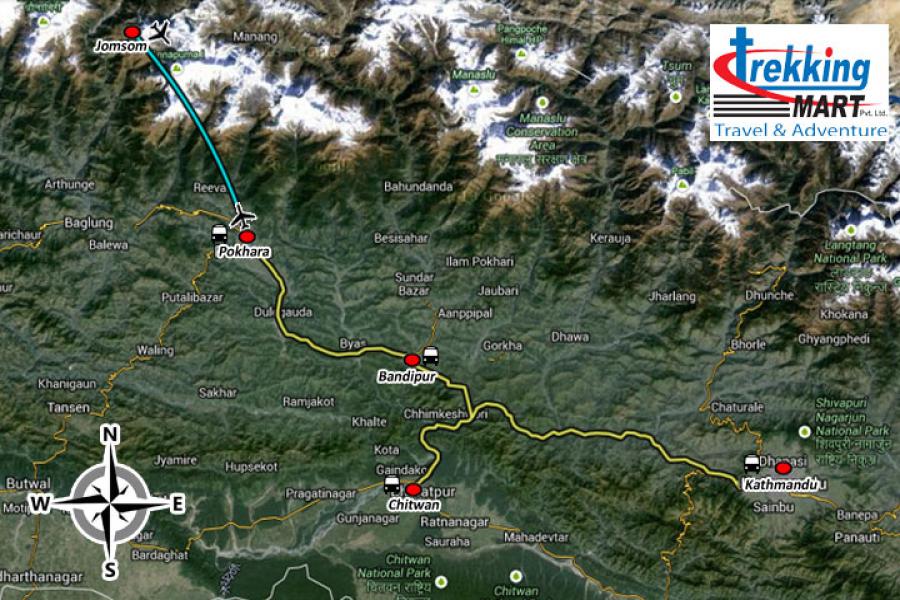 Photography- entitle all about taking photos. It's not about trekking, hiking, expedition or any other activities that people understand about touring in Nepal. With diverse natural beauty and countless historic monuments, temples, culture and ethnicity Nepal has become a dream destination of every Photographer. So, our Nepal photography tour is purely for photographer.
This tour takes you to some of the inherent destinations of scintillating eco-cultural heritages. Starting from the complex cultural practices of Kathmandu valley this tour extends to picturesque mountain sceneries from Muktinath and finally to magical landscapes and wild lives of Pokhara and Chitwan.
Note: This trip is customizable. As per your interest destinations and holiday duration, we can reschedule it.
Day 01: Arrive Kathmandu (1,350m)
Upon your arrival in Kathmandu airport a representative from Trekking Mart greets you. Then you will be taken to a chosen hotel at the downtown of Kathmandu city. At evening, we'll accompany you in a welcome dinner of authentic Nepali cuisine along with cultural dance presentation. Meal: Dinner
Day 02: Kathmandu exploration day
This is a perfect day for cultural photography. You'll explore some of UNESCO world heritage sites of Kathmandu including Swyambhunath, Kathmandu Durbar Square, Pashupatinath and Boudhnath. These monuments are well decorated by Hindu and Buddhist cultural arts and architectures, offering best photo techniques and scenic locations. At evening shoot tourist life of Thamel. Meal: Breakfast
Day 03: Visit Bhaktapur city (1,337m)
Today you'll visit another ancient city- Bhaktapur, also known as city of Devotees. Bhaktapur is popularly known as its unique architectures, monuments, narrow alleys, storied history and cultural lifestyle. Bhaktapur Durbar Square, Nyatapola temple, Dattatreya square are widely appreciated places for its religious and photo values. Meal: Breakfast
Day 04: Drive to Bandipur (1,030m)
Breakfast is followed by driving towards Bandipur. This is one of the splendid hill stations of Nepal which offers local traditional lifestyle along with pleasing views. The craftwork of local Newari people is just impressive. Locals are running a lot of boutique hotels; we'll choose one and spend a night with pleasure. Meal: Breakfast, Lunch and Dinner
Day 05: Drive to Pokhara (827m)
Drive for around 3 hours westward and reach to Pokhara: a paradise of Nepal. This nestled valley is well decorated with beautiful lakes, caves, monuments and alluring mountain sceneries. Phewa Lake, Devis fall, World peace pagoda, old bazaar etc. are best for your photographic aspiration. Explore the destinations and stay overnight in Pokhara. Meal: Breakfast
Day 06: Fly Jomsom (2,720m), hike to Kagbeni (2,800m)
By a you'll fly to Jomsom. It is a scenic flight which passes through massive Annapurna and Dhaulagiri ridge. Jomsom offers some of uncommon scenery of outstanding landscapes. Furthermore, you'll be hiking towards peaceful village of Kagbeni. Capture awesome beauties of enticing peaks and virgin surroundings. Overnight in a local teahouse. Meal: Breakfast, Lunch and Dinner
Day 07: Drive to Muktinath (3,760m)
Today we'll take a Jeep ride to sacred destination of Muktinath (3800m). You'll find multi-religious practices with various sacred icons and arts. Muktinath has famous Vishnu temple with 108 cow shaped fountains spewing holy water in the tranquil courtyard. Also, Muktinath offers a colorful sunset view over the Annapurna Mountains. Meal: Breakfast, Lunch and Dinner
Day 08: Drive back to Jomsom (2,720m)
Morning will be blessed by tantalizing sunrise view over massive Annapurna mountains. Explore few local villages nearby and frame livelihood, life, tradition and hospitality of these mountain people. After lunch drive back to Jomsom and stay overnight. Meal: Breakfast, Lunch and Dinner
Day 09: Fly Pokhara, explore city
One of morning flights will bring us back to Pokhara. Settle your stuffs in the hotel and begin exploring around magical Pokhara city. Visit around Mahendra cave, Seti River George and Bindabasini temple. The old bazaar and Tibetan refugee camp would offer traditional life of local inhabitants. Overnight in Pokhara. Meal: Breakfast
Day 10: Drive to Chitwan
After breakfast, drive to Chitwan National Park (approx. 4 hours' drive). This is a natural world heritage site of Nepal will a many of wildlife safari opportunities. Chitwan is a natural habitat of Bengal Tiger, one horned Rhino and many more plant and animal species. Upon reaching Chitwan, visit around Tharu village and entertain attractive sunset view from Rapti river beach. Meal: Breakfast, Lunch and Dinner
Day 11: Jungle photography in Chitwan National Park
This one is the finest day for wildlife photography lovers. Attempt an elephant/jeep safari and insert deep into the forest thereby shoot countless species of animals, birds and insects (obviously by your camera). We'll visit to elephant breeding center and do Canoe ride in Rapri River. Meal: Breakfast, Lunch and Dinner
Day 12: Drive to Kathmandu
Today we'll be driving back to Kathmandu (164km/ 5 hours' drive). En-route offers stunning view of White Water Rivers, towns, terraces, forests and uneven landscapes. Upon arrival in Kathmandu, shift to hotel, relax and stay overnight. Meal: Breakfast
Day 13: Visit Patan City
Patan is the "city of fine arts". The wooden and metal works of local Newari peoples are just extraordinary. The ancient palace, temples, monuments, water spouts and local houses of Durbar Square, Golden temple, Bangalamukhi temple and local town gives you untellable photo choices. Enjoy the day with art and drive back to Kathmandu. Meal: Breakfast
Day 14: Departure
At about 3 hours prior to your flight time, we transfer you to the airport to fly your onward destination. Trekking Mart family wishes your best time ahead. Meal: Breakfast
All ground transfer as per itinerary
Pokhara – Jomsom - Pokhara flight
Hotel accommodation in cities (Hotel standard is as per your choice)
Teahouse in the mountain
All meals at Bandipur, Chitwan, Kagbeni, Muktinath and Jomsom
All guided tour by a professional tour guide
Entrance fees of monuments and national park
Mentioned jungle activities in Chitwan
All government taxes
Official expenses and service charges
Welcome dinner
Lunch and dinner in Kathmandu and Pokhara (except welcome dinner)
Travel insurance
Personal expenses (Bar, laundry, bottled water, telephone calls etc.)
Nepal visa fee
International airfare
Personal equipment
Tips
Useful Info
Trekking Mart likes to make our clients know everything about the trip before they are leaving for it. We genuinely focus on your level of alertness about all touring and trekking procedures. Read more
You May Also Like