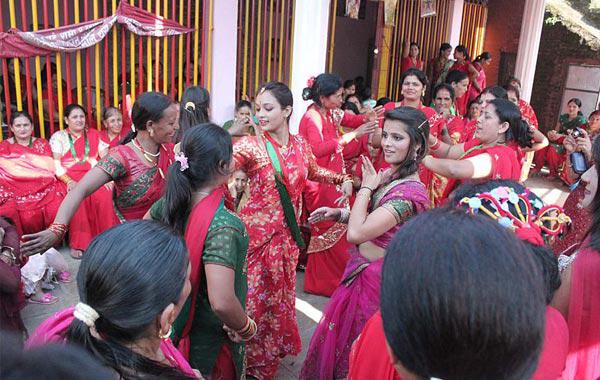 What?
Teej: The festival of Hindu Nepalese women is one of the most famous women oriented festival which provides a forum for women's freedom and expressions.
On this day, women (both married and unmarried) do fasting for long life of their husband/ will be husband for their long life and for loving relationship between them till death.
When?
The festival Teej falls on the third day of Bhadra Sukla Paksha (according to Nepali lunar calendar) /late August or early September. It is a three days celebration of heavy feasts and rigid fasting and traditionally dedicated to Goddess Parvati.
How is it Celebrated?
Teej is celebrated for three days and each day features the different religious themes:
1st day: Dar Khane Din - This is the day of grand feast. On this day, all the women of the family unite at a place and perform dance and singings. Through the devotional songs mixed with Nepali Dohori and folk songs, women express their feelings over their family life.
At the evening of the day, they eat an especial festival food called "Dar' along with fruits, mithai, sel, deserts etc. and from the midnight a long 24 hour fasting starts.
2nd day: Teej - This is the main and fasting day of Teej. Some take it rigidly even without a drop of water whereas some take liquid foods.Women dress red; wear jewelries and visit nearby Shiva's temple and worship Shiva Lingam. They do singing and dancing for the whole day.
In Kathmandu, most of the devotee visit Pashupatinath temple.
3rd day: Ganesh Chaturdasi - This is the final day of the Teej. In the morning, women worship Goddess Parvati and break fasting. Banana and Basil leaf (Tulsipatta) are the most important part of this worship.
This year, Teej festival falls on August 28, 2014 i.e. Bhadra 12, 2071.