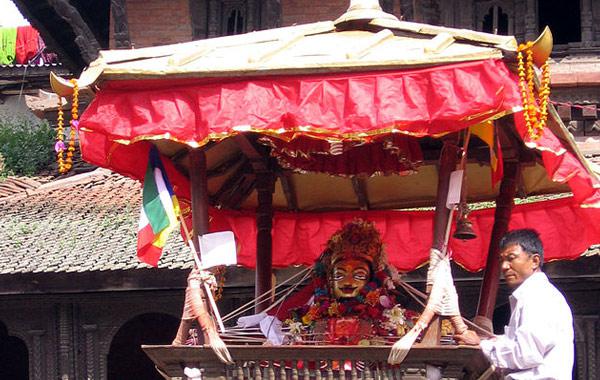 Indra jatra is the festival to worship Lord Indra; God of Rain and King of Heaven. It is supposed that this festival is celebrated to make Indra happy and to thank him for rain. Indra jatra festival is celebrated in Kathmandu valley in the day of Bhadra Dwadasi to Ashwin Krishna Chaturdasi. It is an 8 days long festival.
How it is celebrated:
Indra jatra festival begins with the erection of a ceremonial pole (Linga) at Kathmandu Durbar Square. This 36 feet long pole is chosen from Nala forest in Kavre district. During the procession, Newar community display images and sculptures of Indra and Bhairav. The erection of the pole is accompanied by the display of the deity Akash Bhairab, which is shown only at the time of Indra jatra.
Another important event of this festival is Kumari jatra (the procession of living goddess). This tradition was started by King Jaya Prakash Malla in 1756 AD. At this time, three chariots of Ganesh, Bhairav and goddess kumari are pulled along the festival route of Kathmandu for three days and is accompanied by musical bands and dancers. For all three days the chariot pulling procession covers different festival routes and each day celebration terminates with back to Basantapur.
Story behind Indra Jatra:
According to the legend, Indra's mother named Dagin, needed Parijat, a type of flower, for some religious and ritual purpose. So Indra came to the earth in human form to fetch them. But, he was caught by the people when he was to steal the flower and they tied him with the ropes. When the Indra absence became too long, his mother Dagin came in search, looking around for him along with Indra's white elephant. But later, when people knew him as Lord Indra, they were very sorry and started worship him for forgiveness. The statue of him is still worshiped in Maru Tole in Kathmandu and during this festival, this image is put on display with other in different parts of the city.
During the whole week of this festival, people enjoy with various ritual dances and witness the chariots of Kumari, Ganesh and Bhairav. In Indra chowk, the decorated head of famous Akash Bhairav is displayed and some believe that it is the head of first kirat King Yalambar. Variety of dance performances, like dances of Sawa Bhakku Bhairav from Halchowk, Lakhe from Majipat, Devi Nach from Naradevi, Kathi Maka Nach from Bhaktapur etc. are performed at around the Hanuman Dhoka Durbar Square.
At first, Indra jatra festival was celebrated and observed by only Newar community, but now it has become a national festival. Both Hindu and Buddhist communities come together to celebrate this.
This year Indra jatra festival is being celebrated from 8th September, 2014 to 16th September, 2014.