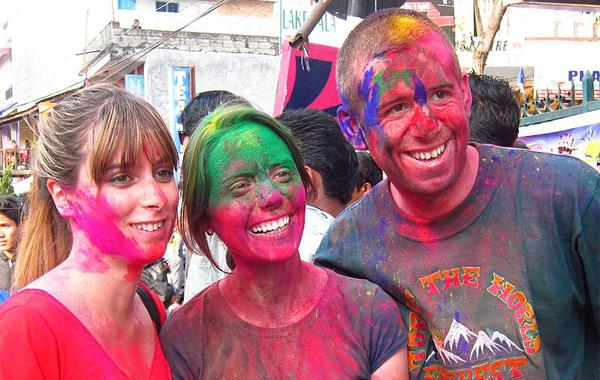 Kathmandu, Mar 5
Today on 5th March, Nepal is celebrating Holi festival. Holi is also known as the "festival of color" and is the mark of arrival of spring. Though Holi is the festival of Hindu, people from different religion or geographic location of Nepal celebrates this with great joy and enthusiasm.
In Nepal, the official starting of Holi is one week before the main day of Holi. A long bamboo stick tie with different color clothes is erected in Basantapur Durbar square and is taken down and burnt at the eve of Holi.
The color play is the main attraction of this festival. With colors, water, music and sweets, people share fun and wish for prosperity. They use to put color on each other as a token of love, victory and visit relatives and friends in groups. They throw colored water on balloons and water gun over each other. Some play music; perform cultural dances and burn fires.
The main charm of festival seems in Kathmandu valley. At main streets of Thamel and Kathmandu Durbar square, tourists also play color and water. In Terai (southern part of Nepal), people celebrate Holi next day from Kathmandu valley and other hilly region. Holi is official holiday in Nepal.