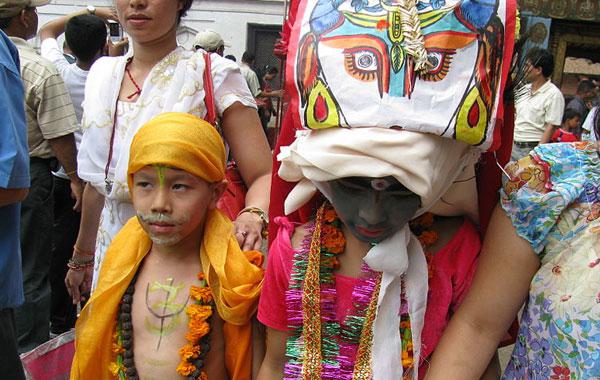 Gai Jatra, festival of Cow is an ancient festival falls in the month of August. This festival is popular among Newar community of Kathmandu valley and Tharu community of Terai. It is celebrated in the memory of death people during the year and supposed that this procession lead dead to heaven.
In Hinduism, cow is regarded as a most sacred animal which help to decrease relative's journey to heaven. Every member of the dead family must participate in the procession leads by a cow. If the cow is not available, a young buy dressed as cow and do the procession.
According to the legend, when the King Pratap Malla lost his young son, his wife- the queen was in great misery. In spite of several efforts also he was not able to make her happy and announced that everyone who makes the queen happy would be rewarded. After that peoples did cow procession with different costumes and humorous act. The be-fooling acts of the participants finally gave smile on queen's face. From that day the King started the tradition of celebrating this Cow festival.
Gai jatra festival indicates we are not alone in the county who lost our loved ones. It encourages peoples to accept the reality of death and also makes them be prepared for the life after death.
This year Gai jatra festival is celebrating on 11th of August.