Annapurna Circuit Trekking
Annapurna Circuit Trekking
Trip at a Glance
Trip Name: Annapurna Circuit Trekking
Trip Code: TMAR-02
Trip Duration: 21 days
Trip Grade: Moderate
Activities: Hiking
Accommodation: Hotel/Lodge
Meals: All meals during trekking, Breakfast in Kathmandu
Transportation: Private car/tourist couch
Best Season: Autumn & Spring (Other seaon: Considerable)
Country: Nepal
Max Altitude: 5416 M
Group size: Any
Trip Overview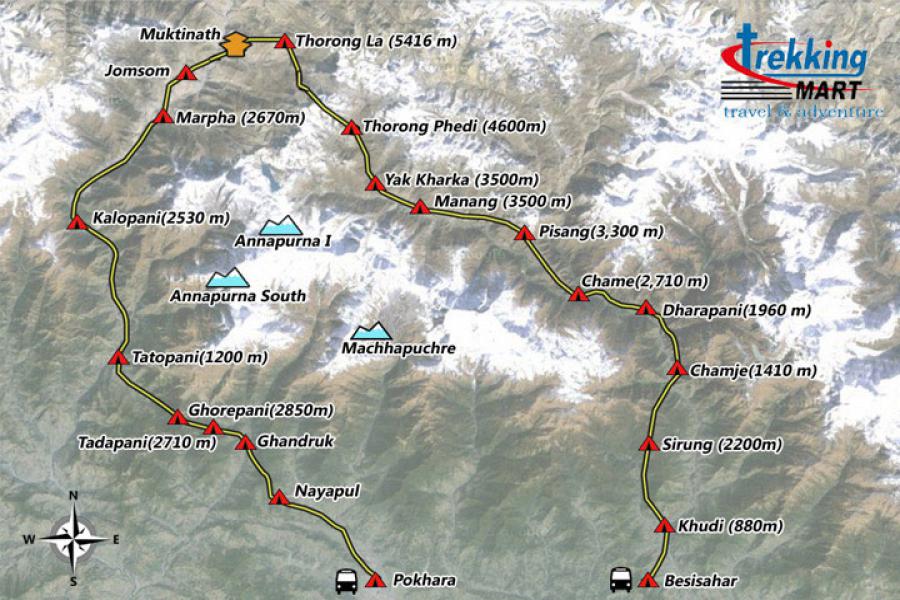 Annapurna Circuit Trekking is the 21 days Nepal trekking package goes through high Mountain, passes and beautiful lakes, through beautiful villages of various ethnic groups and splendid sceneries. The Annapurna Region of Nepal is one of the most popular trekking areas in Nepal, only second to Everest. The region contains some of the most beautiful mountain peaks in Nepal along with diverse flora, fauna, and settlements in the territory. Above From lakeside city of Pokhara, trail route goes by high passes and glaciers of the Annapurna Range. Thus, Annapurna circuit trek offers an incredible taste of what you actually want from Nepal.
This particular 21 days Nepal tour package extends from sub tropical to alpine mountain passes. Starting from the elevation of 800m, it rises to the 5,416m high of Thorong La Pass. Thorong La is probably the best viewpoint of entire Annapurna massive.
Day 01: Arrive at Kathmandu (1,300m), transfer to hotel, welcome dinner
You will arrive at Tribhuvan International Airport (TIA) where you will be greeted by a representative of Trekking Mart. Then you will be taken to your hotel in order to take some rest. In the evening enjoy a welcome dinner featuring authentic Nepali food and cultura dance performances. Meal: Dinner.
Day 02: Kathmandu sightseeing and trek orientation
The morning will begin to orientate you to the incredible culture of Kathmandu valley. We are going to make the sightseeing tour to four of the seven World Heritage Sites (Kathmandu Durbar Square, Swayambhunath, Boudhanath and Pashupatinath) where you will see ancient temples, religious sites and the old royal palace. Afternoon will be a trek orientation program, also meet your fellow trekkers.
Meal: Breakfast.
Day 03: Drive from Kathmandu to Besi Sahar to Khudi (800m)
Today is a bus ride of 8 -9 hours through scenic foothills and Trisuli River. From Dumre on Kathmandu- Pokhara highway we take turn northward to Besi Sahar (760m) and to Khudi (800m), our today's destination, also the trekking beginning point. From Khudi we can see the fine view of Manaslu range. Meals: Breakfast, Lunch & Dinner.
Day 04: Trek from Khudi to Sirung (2,200m)
Today is the first day of trekking as we pass by incredible waterfalls, suspension bridges and lush forest. The trek begins in a pastoral setting of small villages, rice paddies and sub-tropical forests. Elevation rises gradually. We will have home stay in Sirung Village, where we will be afforded a wonderful view of Mt. Manaslu (8,156m), 8th highest peak in the world. Trekking time is 6 - 7 hours. Meals: Breakfast, Lunch & Dinner.
Day 05: Trek from Sirung to Chamje (1,410m)
The trail passes by terraced rice fields, along steep vertical cliffs and then over to Chamje, following the Marsyangdi River. Today's trek is 5 - 6 hours. Meal: Breakfast, Lunch & Dinner.
Day 06: Trek from Chamje to Dharapani (1,960m)
We will enter the beautiful valley of the Manang District. We pass by villages and small terraced farms of barley, potatoes and corn. At end part of trek we will leave the farms behind as we enter torhododendrons and bamboo forest. We will stay overnight in Dharapani. Trekking time is 5–6 hours. Meals: Breakfast, Lunch & Dinner
Day 07: Trek from Dharapani to Chame (2,710m)
The trail moves into steep ridges, past number of landslides as we climb upwards. This day will rewards us great views of Lamjung Himal (6,983m), Annapurna II (7,937m) and Annnapurna IV (7,725m). Before reaching to Chame, there are several hot springs along the way. Trekking time is 5 - 6 hours. Meals: Breakfast, Lunch & Dinner.
Day 08: Trek from Chame to Pisang (3,300m)
We enter the U-shaped valley of Manang where we will cross Marsyangdi Nadi for several times. The trail will rise 500 meters above the river as we move upward in the valley. Stay overnight in Pisang village. Trekking time is 5 - 6 hours. Meals: Breakfast, Lunch & Dinner.
Day 09: Trek from Pisang to Manang (3,540m)
Today we make our way to the major village of the Manang District: Manang. There are two ways to reach Manang; we will take the upper trail because it offers us the best views of the mountains. You can see Annapurna massive to the south whereas mysterious Mustang to the north. We will visit Barge monastery, the largest in Manang District. The environment will become colder and drier as we climb upwards. We would already trek for 6 – 7 hours before reaching to Manang for overnight stay. Meals: Breakfast, Lunch & Dinner.
Day 10: Manang (Day Rest)
We will spend the day in Manang to acclimatize our body with the elevation. Acute mountain sickness could be serious problem in mountain so, it is important to take a day rest here. However it will not be only a day of rest, we recommend visiting around or take a short hike nearby. Meals: Breakfast, Lunch & Dinner.
Day 11: Trek from Manang to Yak Kharka (4,110m)
We leave Manang and Marsyangdi Valley as we enter the Jarsang Khola Valley. The trail leads northward and passes few villages as the trail continues to gain elevation. This is an area of pasturelands where yaks and horses graze between forests. The trek is shorter today because of the higher elevation. We reach to Yak Kharka for overnight stay. Trekking time is 3 - 4 hours. Meals: Breakfast, Lunch & Dinner.
Day 12: Trek form Yak Kharka to Thorang Phedi (4,600m)
Today's trek takes us to the foot of Thorang La Pass at the busy little bazaar of Thorang Phedi (4,600m). We trek short only for 3-4 hours. Meals: Breakfast, Lunch & Dinner.
Day 13: Trek from Thorang Phedi - Thorang La Pass (5,416m) to Muktinath (3,800m)
Thorang La Pass is the highest trekking pass in the world, over three miles above sea level. The day begins early climbing to the pass. Form top of pass view is amazing. This is probably the number one point to admire the entire Annapurna Mountains. From pass walk downhill towards the sacred city of Muktinath. There is a holy temple important for both Hindu and Buddhist. We will spend the night in Muktinath (3,800m). Trekking time is 7 – 8 hours. Meals: Breakfast, Lunch & Dinner.
Day 14: Trek from Muktinath to Marpha (2,670m)
Muktinath is a holy place for both Hindus and Buddhists. Today you will have an opportunity to visit these sacred sites. Leaving Muktinath the trail will pass by the Kali Gandaki, the world's deepest gorge. The day offers great views as we come to Marpha, known for its apple orchards and its famous Apple Brandy. Stay overnight in Marpha. Trekking time is 4 -5 hours. Meals: Breakfast, Lunch & Dinner.
Day 15: Trek from Marpha to Kalopani (2,530m)
The route today will go via Chokhopani village where we will meet the Thakali people. The trek passes apple orchards along with picturesque mountain sceneries. Some major peaks we are going to see today are Annapurna I, Dhaulagiri, Tukche Peak, three Nilgiris, and Fang. Today's trek concludes at the village of Kalopani where we will spend the night. Trekking time is 5 – 6 hours. Meals: Breakfast, Lunch & Dinner.
Day 16: Trek from Kalopani to Tatopani (1,200m)
It is mostly downhill as we make our way to the hot springs of Tatopani. The trail passes the waterfall of Rupse Chahara as we enter the sub-tropical forests of the lower elevations. At Tatopani, we spend the night and enjoy the hot springs. Trekking time is 6 – 7 hours. Meal: Breakfast, Lunch & Dinner. Meals: Breakfast, Lunch & Dinner.
Day 17: Trek from Tatopani to Ghorepani (2,850m)
From today, we will enter to farmlands and small villages of the lower mountain regions. Mountains are still graceful to see. We will stay at Ghorepani in preparation for hike to Poon Hill in next morning. Trekking time is 7 – 8 hours. Meals: Breakfast, Lunch & Dinner.
Day 18: Trek from Ghorepani to Tadapani (2,710m)
Poon-Hill (3,210m) is our morning destination to see the sunrise over the mountains. This is one of the best places to photograph Annapurna Himalayas. We will return back to Ghorepani, enjoy breakfast and trek to our next destination Tadapani. The trekking time today is about 6 hours. Meals: Breakfast, Lunch & Dinner.
Day 19: Trek from Tadapani to Ghandruk to Pokhara (850m)
This is our last day of trekking as we make our way back to modernization. The trek to Ghandruk (1,940m) is 3-4 hours. Ghandruk is a cultural village, popular for cultural tourism. From Ghandruk we will make a jeep ride to the lakeside city of Pokhara. Pokhara is a mysterious place of amazing landscapes. Stay overnight in Pokhara hotel. Meals: Breakfast & Lunch.
Day 20: Return to Kathmandu
It is a good bus ride back to the capital city kathmandu. We will have some time to visit around the city in Kathmandu. Go to shopping for your friends and families or say relax. Overnight Kathmandu.
Meal: Breakfast.
Day 21: Departure transfer
At about 3 hours prior to your flight time, we transfer you to airport to fly your onward destination. Trekking Mart family wishes your best time ahead. Meal: Breakfast.
All ground transfer as per itinerary
Kathmandu sightseeing tour
Hotel in Kathmandu and Pokhara with breakfast (hotel standard is as per your choice)
Meals (Breakfast, Lunch, Dinner) during the trek
Lodge to Lodge accommodation during the trek
Annapurna Conservation Area entry permit
TIMS (Trekkers' Information Management System) fee
An experienced English speaking trekking guide
Porters to carry luggage (2 trekkers=1 porter)
Staff food, accommodation, salary & insurance
All governmental procedure
Applicable Taxes
Rescue arrangement in case of emergency
Welcome Dinner
Lunch and dinner in Kathmandu and Pokhara except welcome dinner
Cost of bar, laundry and telephone bills, travel insurance, rescue evacuation in case of emergency
Tips for guide and porter
Equipment's Check List
Trekking Mart has listed here some of the basic suggested equipment's check list for Annapurna circuit trekking. Some equipment can hire in Kathmandu as well. Click here for suggested check list.
Useful Info
We like to make our clients know much thing about the trip before they are leaving for it. We genuinely focus on your level of alertness about all touring and trekking procedures. Read more