---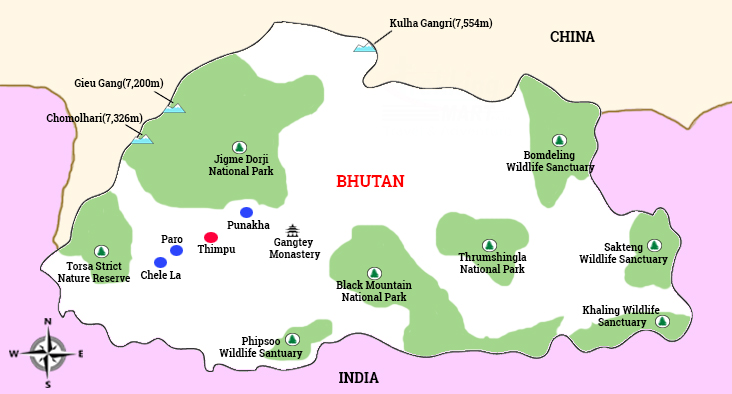 Some of the important facts required while traveling to Bhutan.
Bhutan Visa:
All foreigners except Indian nationals must process their Bhutan visa through a tour operator. Book a trip with Trekking Mart and supply your passport information, occupation and home address details and leave the rest to our expert hands. Bhutan's visa arrangement is a part of the tour.
We need to apply for your visa in advance at the Department of Tourism at Thimpu and your visa has to be approved by the Foreign Ministry, which issues a visa clearance number which is required while you are checking in for Druk Air flights.
The Visa clearance letter is issued a few days ahead of your arrival in Bhutan. All Druk Air Stations, Paro immigration and other ports of entry are faxed a copy of your visa clearance letter but it's handy to a copy of the visa clearance letter, which will help speed up the process while checking in and clearing immigration. Your passport is stamped with an actual visa upon arrival at Paro airport. Two passport size photographs are required.
The Bhutan visa will be valid for the period of your tour only. It is possible to extend your visa, but you have to buy the tour paying the standard rate set by the government with your trip application.
Currency:
The currency of Bhutan is called Ngultrum (Nu.). For economic reasons, the Bhutanese ngultrum is equivalent to the Indian Rupees (Rs.), which is also accepted in the country as legal tender. Major currencies and Travelers Cheques can be exchanged in the banks and some hotels. Credit cards are accepted at only a few of the hotels and shopping establishments in the country.
Language:
Dzongkha is the national language of Bhutan, however English is common. It is the language used in the education system across the country, alongside the native language. Nepali is prevalent in the south while Bumthangkha, Khyengkha, and Sharchopkha are common dialects in the central and eastern Bhutan.
Beverages and Drinks:
Bhutan is known across the world for its excellent production of beverages and drinks. Alcohol is widely available at reasonable prices. In rural areas, you can get home-brewed Ara, which is similar to Japanese Saki. Other imported beverages are also served at the hotels. Bottled mineral water is available throughout the country.
Power and Electricity:
Electricity is available in all of the towns frequently visited by tourists. The voltage supply is 220/240. Tourists intending to carry electrical appliances are advised to bring a converter with an adapter kit.
Time:
Bhutan time is 6 hours ahead of GMT and there is only one-time zone across the country.
Clothing:
Between late May and early October, which is the summer season temperatures can range from 5 to 27 Celsius (40–80 F) and the monsoon season, with heavy rainfall, is from June to August. Light layers of natural or synthetic fabrics are recommended, with heavier outer layers for the evening, such as sweaters or fleece jackets. A light raincoat or umbrella is useful for the rainy moments and waterproof gear is recommended for longer treks.
Health Information:
Good health facilities are available in the major towns. However, it is always advisable to take caution while traveling to rural areas by drinking only bottled water. For trekkers, it is most important to acclimatize to higher altitudes.
Communication Facilities:
Telecommunication facilities are available across the country although overseas mobile phones will not work in Bhutan. If constant communication is required we recommend the use of a satellite telephone. With the introduction of the internet to Bhutan in 1999, visitors can also access internet facilities in all major towns and cities.
Photography:
To capture the beauty of Bhutan, you are advised to carry plenty of film and batteries. You cannot count on being able to purchase the most current photographic supplies: e.g., batteries and digital disks. Only a few basic items are available in some places.
Shopping:
Shopping malls in Bhutan are filled with traditional handicrafts, textiles, jewelry, baskets, masks, paintings, and woodcarvings, all of which make excellent souvenirs.
Transportation:
In order to ensure your conformable travel, we offer Japanese imported vehicles like Land Cruiser, Toyota Cars, Hiace Buses, Hilux, etc.
Season:
March-May and September-November are the high season months. While June, July, and December-February comprise the low season. Bring cotton or light woolen wear in summer (maximum temperature 30 degrees Celsius) and heavy woolens and down jacket in winter (minimum 1.1 degrees Celsius).
Accommodation and food:
All of the hotels we use are clean, comfortable, and of the highest quality by Bhutanese standards. They are all approved by the Department of Tourism. Western Bhutan (Thimphu, Paro, Phuntsholing, Wangdue, Bumthang, and Punakha) has the best hotels. Hotel categories by A, B, C class, we give priority to offer our customers A class.
Central and eastern Bhutan has slightly lower quality hotels. We use the best quality available in each region. In general, Bhutanese hotels are modest and simple. Your hotels in Bhutan will provide you pillows, blankets, sheets, towels, bathroom tissue, and soap. You have to take your own toothbrush, toothpaste, lotions, and other items. Most hotels will have telephones.
The hotels and restaurants will serve a variety of dishes (Bhutanese, Indian, Chinese, and Continental). You can request spicy or no spicy, depending on your preference. It is no problem if you are a vegetarian or have food allergies. Just let your guide know, and he will instruct the chefs on what type of food to prepare for you.
Safety note
While traveling with Trekking Mart, your safety and security is our prime concern and it's our responsibility too. So, regarding the safety concern, your guides have full authority to cancel or divert any part of the itinerary. We try our very best effort in the perfect completion of your trip but who knows, what nature does? Thus, in case of any unexpected happening, please be flexible to change the plan.
Note: For more information about Bhutan, contact us.
Top