Nepal Eco-Culture Tour
---
Trip Overview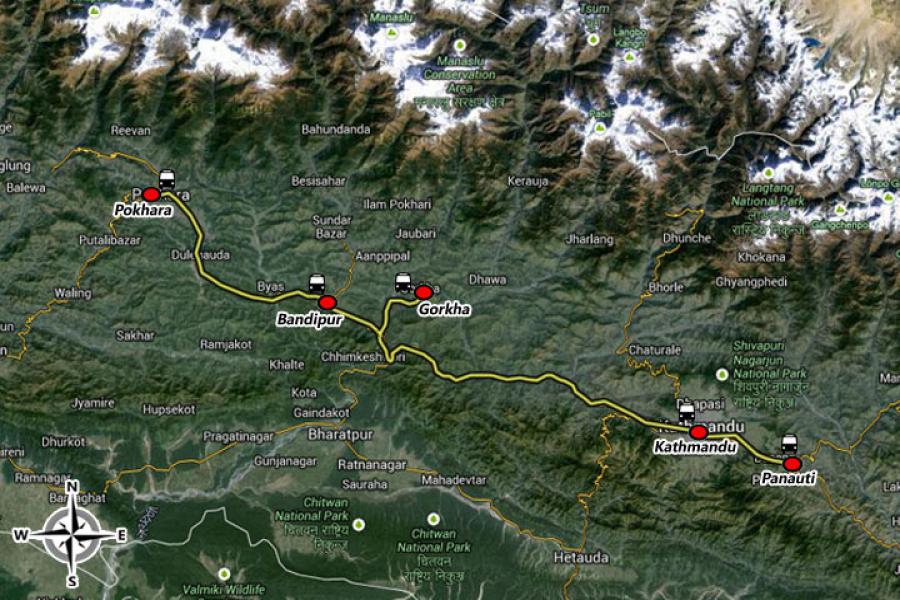 Nepal Eco-culture tour is 10 days tour, perfectly combined tour of both natural and cultural beauties of Nepal. Those who have an immense interest to know about auspicious values and magical creation of supernature can join the trip. This trip is designed by covering most of the excellent hill stations of Nepal by means of providing a maximum level of entertainment outcomes to our every visitor.
Nepal consists of one of the key parts of natural and cultural heritage in the world. The biodiversity, ecological features, rare flora and fauna, multi-ethnicity, culture, tradition, religion, and lifestyle are the unbeatable assets of Nepal. The proper availability of all these indispensable tourism products helps to generate tourism in Nepal, which is one of the most fascinating activities in the world.
Detailed Itinerary
---
Day 01: Arrive in Kathmandu (1,350m), transfer to hotel.

At the time of your arrival in Kathmandu Airport; Trekking Mart will do well manage for your transfer to hotel. After you come out of gate by completing all custom formalities, our representative will greet you and then you will transfer to the selected hotel. After that you can have free time and at the evening you will have welcome dinner of typical Nepali cuisine with fantastic cultural dance presentation.
Hotel
Dinner
Day 02: Kathmandu Sightseeing Tour: Kathmandu Durbar Square, Pashupatinath, Swayambhu, Boudhanath

Today we make a complete guided tour of UNESCO world heritage sites of Kathmandu. This auspicious tour covers the Swayambhunath, Kathmandu Durbar Square, Boudhanath & Pashupatinath. These sites reflect the living images of religions, culture and history of Kathmandu as well as the whole unified Nepal. Swayambhunath & Boudhanath are sacred sites for Buddhism whereas Pashupatinath and Kathmandu Durbar Square are supreme destination for all Hindu peoples. Temples and stupas with fine art and carvings, ancient durbar, statues are the major tangible attractions of our tour.
Hotel
Breakfast
Day 03: Patan & Bhaktapur sightseeing: Overnight at Bhaktapur

Beside yesterdays' Kathmandu valley houses 3 more UNESCO world heritage sites. Today we visit two of them- Bhaktapur & Patan. These two ancient cities of Kathmandu valley are the typical landmarks of ancient art & crafts bearing apex auspicious values. Durbar Squares (Palaces) with temples & monuments in the surrounding are the prime features. At the both places we can find supreme level of art and crafts. Thus Patan is known as "city of fine arts" whereas Bhaktapur is "city of Devotees".
Hotel
Breakfast
Day 04: Drive to Dhulikhel, hike to Panauti

Today in the morning we drive to our next destination Dhulikhel. Dhulikhel is inhabitant by Newars and is the best place for splendid view of dozens of mid-eastern mountains. We chek in to our hotel and make one more fantastic day tour to Panauti. Panauti is well known for Triveni Ghat and Makar mela celebrated once a 12 year. Temples and monasteries of these towns reflects the cultural well-off of country. Overnight at Dhulikhel.
Lodge/Guesthouse
Breakfast
Day 05: Drive from Dhulikhel to Gorkha

Today we drive for 141km west of Kathmandu and reach to Gorkha. Gorkha is the most popular historical hill station in Nepal's history from where unification of diversified Nepal was started.The landmark is well recognized for bravery, wining history, enchanting location and scattered local settlements. Visit historic Gorkha Durbar (palace), Gorkha museum and beautiful scenery around. Overnight at hotel.
Hotel
Breakfast
Day 06: Drive from Gorkha to Bandipur (1,030m)

In the morning explore around the growing city Gorkha Bazaar and then drive to Bandipur. This old strategic point is 143km west of Kathmandu having 1030m altitude. Bandipur is Newar people dominated place where most houses are of typical Newari style and also have a living museum of Newari culture. The location offers panoramic view of Annapurna range, diverse flora and fauna, agricultural fields and other breathtaking landscapes. Hike around the village, admire the super nature, interact with the local and enjoy their reception as well as their way of life. Night stay at Bandipur.
Hotel
Breakfast
Day 07: Drive from Bandipur to Pokhara (827m) and Pokhara Sightseeing

From Bandipur, we make a drive of 60 km to Pokhara. This touristic city houses number of lakes and thus also called city of lakes. This fresh urbanized city is equally valued in music and culture as well as majestic nature. Close view of Annapurna and Manaslu range, lakes, caves etc. are the supreme creation of nature. On arrival, we make a sightseeing tour around these focal points including local markets and old bazaars. Night stay at hotel.
Hotel
Breakfast
Day 08: Explore Pokhara city

Early morning, drive to Sarangkot to see the stunning view of sunrise, back to hotel, have breakfast and is followed by sightseeing around the valley which extend for full day. We cross Phewa lake by boat and then hike to World Peace Pagoda. On return, we visit to Mahendra cave, Devi's fall, Seti River Gorge, Mountain Museum, Bindabasini temple etc. In the evening we can experience the night life of Pokhara too.
Note: If you want to enjoy the unbelievable gliding (flying) experience, let us know. We offer you the Paragliding trip from the beautiful hilltop Sarangkot.
Hotel
Breakfast
Day 09: Drive back to Kathmandu

This day we return back to Kathmandu by summarizing our "Eco-culture tour" in Nepal. This 200 km back drive offers us to admire natural drainage system (river), agricultural fields, forests and disparate human settlement. On arrival in Kathmandu, transfer to the hotel. The remaining time is as per you. You can do your last minute shopping in Nepal or explore around before our farewell dinner. Overnight at Kathmandu hotel.
Hotel
Breakfast and Dinner
Day 10: Departure transfer

At about 3 hours prior to your flight time, we transfer you to the airport to fly your onward destination. Trekking Mart family wishes your best time ahead.
Breakfast
What is included?
All ground transfers as per itinerary by luxury car/van/jeep/bus
Hotel accommodation with breakfast in twin sharing basis
Sightseeing as per itinerary
Entrance fees of monuments and temples
English speaking tour guide
All governmental process
Farewell dinner with cultural show
What is not included?
Expenses of a personal nature
Lunch, dinner and drinks, unless stated in the itinerary
Trip at a Glance
Trip Name: Nepal Eco-Culture Tour
Trip Code: TMTP-08
Trip Duration: 10 days
Activities: Sightseeing tour
Accommodation: Hotel
Meals: Breakfast
Transportation: Private car, Tourist bus
Best Season: Jan-Jun and Sep-Dec (Other time: Cosiderable)
Country: Nepal
Group size: Min - 1