Gokyo Lake-Everest Base Camp Trek-18 Days
Share
Price: USD 1728.00
Price: USD 0.00
Price: USD 0.00
Trip Duration: 18 days
Trip at a Glance
Trip Name: Gokyo Lake-Everest Base Camp Trek-18 Days
Trip Code: TMER-05
Trip Duration: 18 days
Trip Grade: Strenuous
Activities: Hiking/Trekking Tour
Accommodation: Hotel/ Tea house
Meals: All meals during trekking & breakfast in Kathmandu
Transportation: Private vehicle & domestic flight
Best Season: Autumn & Spring (Other season: Considerable)
Country: Nepal
Max Altitude: 5,545m
Group size: Any
Trip Overview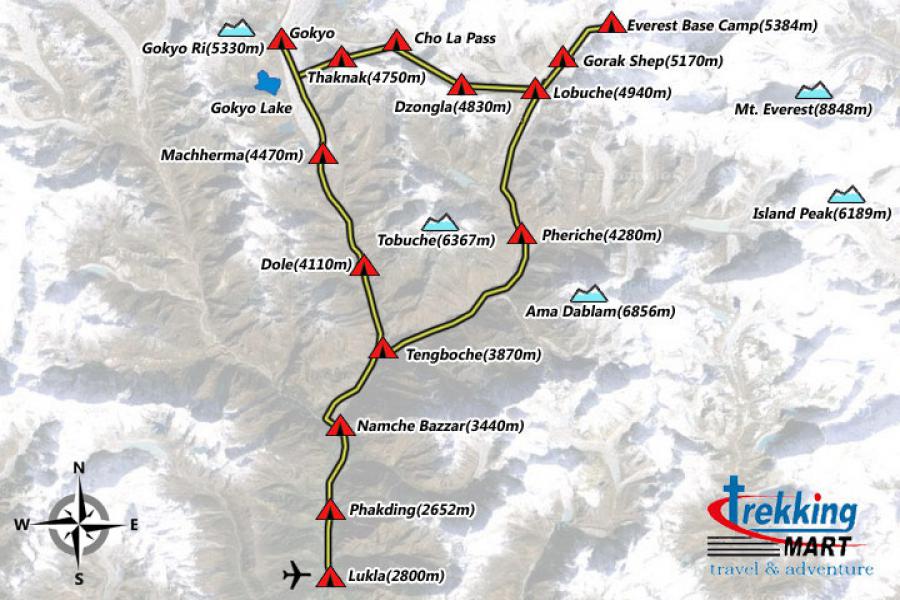 Gokyo Lake Everest Base Camp Trekking tour is a fabulous trekking trial taking to splendid Gokyo valley (4,800m), largest Ngozumba Glacier, spectacular Cho La pass (5,367m), incredible viewpoints Gokyo Ri (5,357m), Kala Pattar and the Everest base camp. This is one of the finest ways to see Mt. Everest (8,848m) and other mountains of this range.
Gokyo is a hidden valley is beautifully decorated with 360-degree panoramic mountain range along with stunning Gokyo Lake (196ha). For many, trekking through Gokyo valley is a must-see experience on their way to Everest Base Camp. The awe-inspiring appearance of shimmering lakes, glacier lakes, scattered human settlements, massif four above 8000m mountains is the one after another gift of this journey.
The Gokyo lake Everest Base Camp trekking tour is best for who wish to take a challenging trek.
Detailed Itinerary
---
Day 01: Arrive Kathmandu (1,300m), transfer to hotel.

Arrive at Tribhuvan International Airport. You will be taken to your hotel where you can relax or spend some time just looking around the city. At evening we accompany you a welcome dinner at a typical Nepali restaurant where you will get to see Nepali cultural program.
Hotel
Dinner
Day 02: Kathmandu sightseeing and trek orientation

Today's agenda will be to take you on a cultural tour of several of the World Heritage Sites in Kathmandu Valley. From ancient temples to historic Royal palaces, you will marvel at the historical and cultural beauty of this city. After tour, there will be an orientation of the trek where you will be meeting your crew members.
Hotel
Breakfast
Day 03: Fly from Kathmandu to Lukla and trek to Phakding (2,652m)

Early morning fly to the village of Lukla (2,840m) and then we will make 3 – 4 hours trek to the village of Phakding. Today will be a short trek in order to get you acclimated to the elevation. There will be an optional hike to a nearby monastery.
Lodge/Guesthouse
Breakfast, Lunch & Dinner
Day 04: Trek from Phakding to Namche Bazaar (3,440m)

Today's trek will take between 5 and 6 hours as you walk through pine forests leading along the Dudh Koshi River and over a series of suspension bridges. Today will feature the first view of Mt. Everest (8,848m) after a steep climb over the Lhotse-Nuptse ridge. We will reach to Namche Bazaar to spend the night. Namche is the Principle trading center of the region.
Lodge/Guesthouse
Breakfast, Lunch & Dinner
Day 05: Namche Bazaar (Day Rest)

It might seem early to take a day of rest but this is so that your body will become acclimatized to the high elevation. It will not be a full day of resting, as there will be a short day hike to your choice of Thame (3,493m) or Khunde (3,840m) or exploring the village of Namche Bazaar. We recommend being active rather than staying at a place for whole day.
Lodge/Guesthouse
Breakfast, Lunch & Dinner
Day 06: Trek form Namche Bazaar to Dole (4,110m)

This day's trek is quite strenuous as we work our way to Mong La pass. The trail may be steep, but the views will become more reward than your efforts. The trail has scenic vistas as well as passing through dense forest where you will see an abundance of wildlife. We will spend the night at the small village of Dole (4,110m) where there are a few teahouses. Trekking time is 6 – 7 hours.
Lodge/Guesthouse
Breakfast, Lunch & Dinner
Day 07: Trek from Dole to Machherma (4,800m)

This will be another strenuous day as the trail makes a steep climbs upwards via the village of Lhabarma (4,330m) and Luza (4,360m). This day will be rewarded with outstanding views which can overcome the challenges. Trekking time is about 4 – 5 hours, with overnight stay at Maccherma.
Lodge/guesthouse
Breakfast, Lunch & Dinner
Day 08: Trek from Machherma to Gokyo (4,800m)

We come now into the beautiful Gokyo area. The Gokyo valley opens up with great views of Mt. Kangtega (6,782m), Thamserku (6,618m) and Cho Oyu (8,201m). There is some steep climbing up to the terminal moraine of Ngozamba Glacier (biggest glacier lake in the world). Today the beautiful lakes of the Gokyo region will be spotted. We will spend the night in Gokyo.
Lodge/Guesthouse
Breakfast, Lunch & Dinner
Day 09: Gokyo Valley- rest day

This is a day here to relax by means to acclimatize to the higher elevation. There are six lakes in the region, and today will offer a chance to take some short hikes to those lakes. The views of the mountains, including Everest (8,848m) are outstanding from on top of the ridges around Gokyo. At the fifth Gokyo Lake, you will see the world's largest glacier – Ngazumpa Glacier. You will spend second night in Gokyo.
Lodge/Guesthouse
Breakfast, Lunch & Dinner
Day 10: Trek from Gokyo Ri (5,357m) to Thaknak (4,750m)

Early morning hike to Gokyo Ri, is a steep up but offers incredible views of the lakes and mountains. It takes between 3 – 4 hours to reach to the top. We will continue to pass by glaciers and lakes, spending the night at Thaknak. Trekking time is 4 – 5 hours.
Lodge/Guesthouse
Breakfast, Lunch & Dinner
Day 11: Trek from Thaknak to Cho-La Pass (5,367m) to Dzongla (4,830m)

Cho La Pass is another highlight of the trip, which will display some incredible scenery of the Everest/Gokyo region. The pass is steep but not much challenging, and will involve walking on the glacier. We reach to Dzongla for overnight in a basic lodge, trekking time 7 – 8 hours.l
Lodge/Guesthouse
Breakfast, Lunch & Dinner
Day 12: Trek from Dzongla to Lobuche (4,940m)

Today's trek is a bit shorter, only 2 -3 hours, giving you more time to relax and enjoy the scenery. This is one more day of great mountain views with overnight in Lobuche.
Lodge/Guesthouse
Breakfast, Lunch & Dinner
Day 13: Trek from Lobuche to Gorak Shep (5,170m) - EBC (5,364m)

Today's walk leads to our final destination – Everest Base Camp (5,364m). We will stay at Gorak Shep as there are no accommodation facilities at Base Camp. From Gorak Shep, you can stand there and look at the highest mountains in the world in all of their grandeur. The trek to Base Camp can be made either today or tomorrow. Many will choose to trek to Base Camp in the morning in order to experience sunrise over the highest mountain in the world. Trekking time today is 8 – 9 hours.
Lodge/Guesthouse
Breakfast, Lunch & Dinner
Day 14: Hike to Kala Patthar (5,545m), trek to Pheriche (4,280m)

Day 14 is another highlight of your trip. The day starts early morning in order to catch the first rays of the morning sun striking to the snowcapped peaks. Some will choose to travel to Base Camp, which will add an extra 4 - 5 hours to the day's trek. The trip begins its downward descent as we will spend the night at the village of Pheriche. Trekking time (without Base camp trek) is 8 – 9 hours.
Lodge/Guesthouse
Breakfast, Lunch & Dinner
Day 15: Trek from Pheriche to Namche Bazaar (3,440m)

After days of climbing uphill, today will feel quite easy as we descent down to the village of Namche Bazaar. At Tengboche, you can see the highest Buddhist monastery in the world. The trail is surrounded by Juniper and Rhododendron trees, making for a wonderful trek. At Namche Bazaar, you will get your first hot shower in the trek as well as an opportunity to do some shopping. There are Internet and ATM machines in the village. Trekking time is 5 – 6 hours.
Lodge/Guesthouse
Breakfast, Lunch & Dinner
Day 16: Trek form Namche Bazaar to Lukla

This is the final day of trekking as you make your way to the airport at Lukla. You continue downhill journey, passing through mountain forests and Sherpa villages. We will spend a night in Lukla.
Lodge/Guesthouse
Breakfast, Lunch & Dinner
Day 17: Fly to Kathmandu

y the morning flight we fly back to Kathmandu. Enjoy the vertical view of snowcapped mountains one more time. Arriving Kathmandu, you can relax, do sightseeing or do some shopping before farewell dinner. Overnight stay in Kathmandu.
Hotel
Breakfast and Dinner
Day 18: Departure transfer to airport

At about 3 hours prior to your flight time, we transfer you to the airport to fly your onward destination. Trekking Mart family wishes your best time ahead.
Breakfast
What is included?
Airport pickup and drop
Kathmandu city tour by car
Kathmandu-Lukla-Kathmandu flights
Hotel accommodation in Kathmandu with breakfast
Lodge to lodge accommodation during trekking
Breakfast, lunch and dinner during the trek
English speaking trekking guide
Porters to carry luggage (2 trekkers=1 porter)
Salary, insurance, food and lodging for guide and porter
Trekking permits and National park fees
Welcome and farewell dinner
What is not included?
Lunch and evening meals in Kathmandu except welcome dinner
Travel and rescue insurance
Personal expenses (phone calls, laundry, bar bills, battery recharge, Bottled or boiled water, shower, etc.)
Tips for guides and porters