---
Chitwan National Park is Asia's most well-preserved National Park is a favorite destination of tourists looking for an enduring safari experience. The Park is home to a range of wildlife including greater One-horned rhinoceros and the Royal Bengal tiger and particularly rich flora and fauna boasting more than 450 species of birds. The natural habitat of wildlife was preserved and flourished. Rhinos are commonly seen in Chitwan and occasionally the Bengal tiger can be spied well camouflaged among the tall grass. Rides on Elephant back or jeep drive, crossing rivers on dug-out canoes and catching unsuspecting wildlife in their natural habitat; these are thrills one is not likely to forget even years after the mystical holiday in Nepal.
Things to do:
Jungle Safari:
Jungle safari on elephant back is the highlight of a trip to Chitwan. The elephant takes visitors into the heart of the jungle clearing paths where there are none, wading through the river allowing an unmatched view of the jungle. It is a good photo opportunity as well with a view from the top. Jungle walks, jeep drives and canoe rides are the other means of seeking out the abundant bird-life and wide variety of flora and fauna in the Park. With a bit of luck, you may see the elusive Royal Bengal tiger too.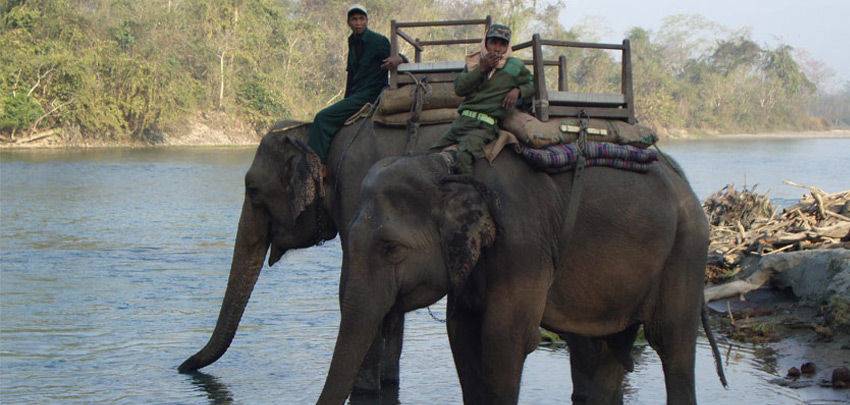 Wildlife and Breeding centers:
Besides the rhinos and tigers, there are sloth bears, wild boar, gaur (bison), 4 species of deer, 2 species of monkeys, 2 species of crocodiles, leopard, wild cats; a large variety of reptiles and over 500 species of birds. Apart from jungle safari, there are many places of interest within the park such as the Elephant Breeding Centre and Crocodile Farm where these animals have been successfully breeding in captivity.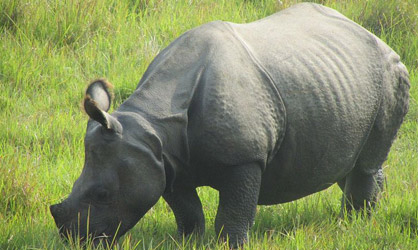 Bird watching:
The Chitwan National Park is made up of dry deciduous forest, tropical evergreen forest, and riverside grasslands. The highest number of bird species (over 539) has been recorded here than in any other part of Nepal. The naturalist accompanying you will point out birds on trees that you would never have spotted on your own.
Top