---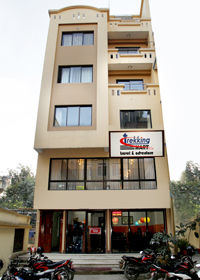 Trekking Mart Pvt. Ltd is Nepal's recognized travel company, with a qualified working team of more than a decade of years' experience. It is a leading company, focused on improving the visitor's experience through meaningful outdoor activities as like trekking, tours, adventures and safaris. The company is fully licensed, registered and recognized by authority of the government of Nepal.
With our presence in Nepal's tourism industry, thousands of visitors from round the globe got benefited. During our long years of work, we have not only accumulated respect and praise, but also establish our company as one of the best one in tourism business.
Trekking Mart is team of 15 ever dedicate, sincere, and hardworking personnel (including administration, trekking leaders and tour guides), who are always cheerful and diligent to serve you on any circumstances during and after the trip. On your need, we do supply multilingual guides such as English, Chinese, French, Spanish, Japanese and Italian. In the areas of trekking arrangements, family tours, jungle safaris, peak climbing, sightseeing tour, Honeymoon package tour, helicopter tour, adventure sports like Rafting, Bungy and Paragliding, we are showing our enormous presence.
We proudly assure that we are deeply responsible on your best experience and towards the development of the destination. To make Nepal a safe and better place, we are associated in tourism development mission of Government of Nepal, Trekking Agencies' Association of Nepal (TAAN), Pacific Asia Travel Association (PATA) - Nepal chapter, Nepal Tourism Board (NTB), Nepal Mountaineering Association (NMA), and Sustainable Tourism Network (STN).
We are socially aware travel company. We realize, only with the development of society, we can develop tourism in Nepal and definitely our business as well. We are actively involving in social work, supporting to build a community school in Ghairung VDC at Gorkha district
Please feel free to contact us or you can directly reach us on +977-9851093450 to make your holiday an unforgettable one!! Trekking Mart would be happy to be in your service!!!
Top