Nepal Classic Tour
---
Trip Overview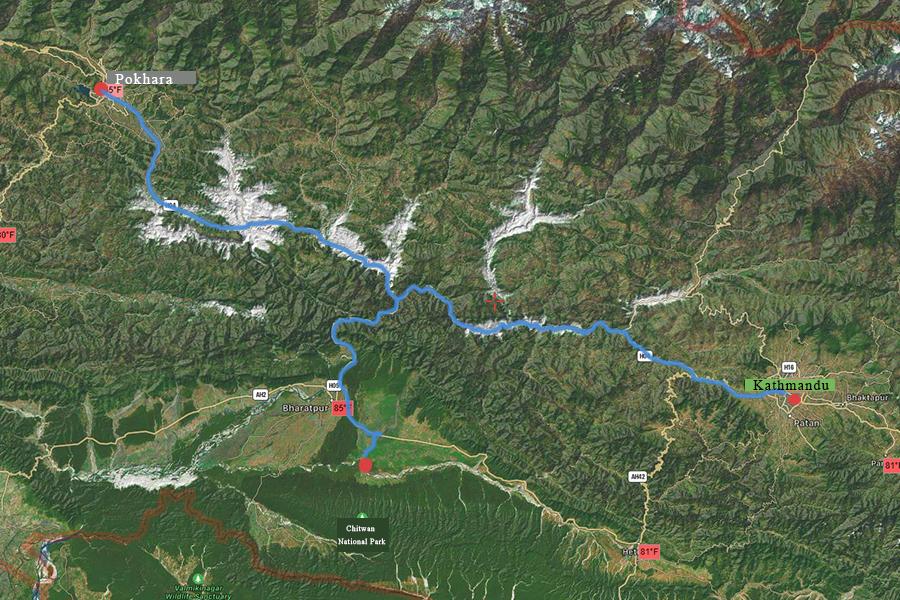 Nepal Classic Tour is a unique tour of the cultural and natural heritage of Nepal. The tour starts from the cultural, religious and political hub of the Kathmandu valley and extends to majestic natural locations of Chitwan and Pokhara. Join us as we provide the opportunity to build lifetime memories of the diverse, exciting and enlightening range of attractions Nepal has to offer.
Our unique Nepal classic tour offers an in-depth tour of the fascinating city of Kathmandu. The prosperous center the Kathmandu is also named "The city of Temples". A visit to numerous UNESCO sites of Kathmandu presents an enchanting feel for the traditional and artistic creations and beliefs of local civilization. Chitwan National Park is a renowned destination to go for an unforgettable jungle safari and Pokhara is a scenic wonder of geological mysteries.
This tour is appropriate for those who wish to take in an abundance of vivid aesthetic and natural experiences on a holiday. Get the Nepal classic tour to make the most of your holiday.
Detailed Itinerary
---
Day 1: Arrival Kathmandu Airport (1,350m), Transfer to Hotel

The journey begins before your plane touches down at International Airport in Kathmandu. If flight arriving in day time from your window seat, you can look down upon the snowcapped peaks of the Himalayas. Look to the east and on clear days, Mt. Everest is visible. Known by the local Sherpa people as "The Mother Goddess of the Earth", it is a truly amazing sight.
Check through passport control, and be met by our representative at outside arrival gate. You will be taken to your hotel to freshen up and relax. In the evening, enjoy a Nepali cultural program with authentic Nepali food and a cultural dance program that will help you to catch the unique spirit of Nepal.
Hotel
Dinner
Day 2: Kathmandu Valley Tour

You wake up refreshed after a good night sleep and after breakfast at your hotel visit Swayambhu. Also known as Monkey Temple because of the many rhesus monkeys that call this place home, this Buddhist stupa is over 2000 years old. From on top of the hill there as a great view of the Kathmandu Valley. Following a tour of Swayambhu, we will travel to Chaundragiri to take the cable car to the top of the mountain for an incredible overlook of not only the Kathmandu Valley, but a chance to see the snowcapped peaks of the Himalayas. We will have lunch up here on top of Chaundragiri (lunch is on your own).
Following lunch, we will travel to Kathmandu's Durbar Square. Home of the kings of Nepal, there are nearly 60 temples at this UNESCO World Heritage Site. Durbar Square is home of the former royal place along with The Living Goddess. Known as the Kumari, a young girl is chosen by a very ancient and strict ritual to be the embodiment of a Hindu goddess. She will serve in this capacity until puberty when another girl will be chosen. If we are lucky, we will be able to see her.
From here, we travel down Freak Street, which was home of the hippies in the late 1960s and early 1970s. It was here that Jim Morrison of the Doors, the Beatles and Cat Stevens all came to enjoy the easy life and the laid-back atmosphere of the city. While walking down Freak Street, we will stop for tea and either pie or cake at the last of the traditional "Pie and Chai" shops. Here you can see the actual place where the artist Cat Stevens wrote the lyrics for the song Kathmandu.
Hotel
Breakfast
Day 3: Drive to Chitwan National Park

We enjoy a delicious breakfast before we board our luxury bus to take a five hour drive to Chitwan National Park in the southern part of the country. The journey takes us across the pass and down into the Trisuli River Valley. A major river, the Trisuli begins at three different points along the border of Tibet. The river is famous for its white-water rafting. No doubt we will see rafters braving the rapids along the way. During the first part of the journey, it is very likely we will see the snowcapped peaks of the Ganesh Himal range.
We arrive for lunch at Chitwan National Park. The resort here is our home with great rooms and an enjoyable jungle atmosphere. Chitwan is a UNESCO World Heritage Site and along with neighboring Bardia National Park, the numbers of Royal Bengal Tigers and Indian One-Horned Rhinoceros areactually increasing! There will be time to visit the Elephant Breeding Grounds and we may even see some baby elephants. They're big babies, weighing over 200 pounds at birth. In the evening, enjoy a special Tharu Cultural Show. The Tharus are the people of the Terai or jungle regions of Nepal. They have their own unique language and culture. Tonight you will see the famous Stick Dance which is truly amazing to behold.
Hotel
Breakfast, Lunch & Dinner
Day 4: Jungle Safari Tour of Chitwan National Park

After breakfast, we take a bus to our starting point for the elephant jungle safari. Boarding an elephant is relatively easy as we walk up steps to the landing. There are four people per elephant, and we sit safely in the basket while the driver sits up front and directs his elephant.
Drivers and elephants spend a lifetime together, often as much as 40 years, so they form a very close bond. They use only female elephants to do the jungle safaris, reserving the males for heavier work like logging. It is the safest and best way to see wild animals in the jungle. If we are lucky, we may actually see a Royal Bengal Tiger. They tend to be kind of shy and they come out on their own schedule. We will definitely see other animals, including the Indian One Horned Rhinoceros, peacocks, spotted deer, monkeys and other wildlife.
Once the elephant safari is over, we head back to the resort for lunch. In the afternoon, take a leisurely trip down the Rapti River looking for crocodiles and wild birds. You may even see wild elephants coming down to the river to drink. You most definitely will see crocodiles, but there is nothing to worry about.
Chitwan National Park is home to hundreds of varieties of birds, plus colorful butterflies and other jungle wildlife. In the evening, enjoy dinner and then rest by the fire. Watch a sunset over the Rapti River as you prepare for the next part of your journey to Pokhara.
Hotel
Breakfast, Lunch & Dinner
Day 5: Drive from Chitwan to Pokhara

Rise and enjoy a wonderful breakfast at the resort. After breakfast, travel by luxury bus northward along the Trisuli River until you reach the city of Mugling. We turn west here, following along terraced farms and passing through villages. The amazing Annapurna Mountain peaks begin to become visible as we make our way to the city of Pokhara.
The journey takes around six to seven hours, but the scenery is truly amazing. There are waterfalls along the way as well as crossing some important rivers. We arrive at our hotel with time to relax. There will be time to explore along Phewa Lake as well as enjoying dinner at one of the many fine restaurants in Lakeside.
Hotel
Breakfast
Day 6: Pokhara Sightseeing Tour

We rise early before breakfast and take a ride to the top of Sarankot Hill (elevation 1,500 ft.) From here, we will watch an amazing sunrise over the Himalayas. We stand on top of the hill watching the grey peaks turn first a reddish-orange and finally become a brilliant white. It is a truly breathtaking scene from on top of Sarangkot Hill.
From here, we return to our hotel for breakfast, and then its off sightseeing in Pokhara. We will visit Devi Falls, the Gupteswor Cave with its temple to the Hindu god Shiva along with Seti River Gorge in the midst of the city. There are a sacred Hindu temples and Buddhist monasteries.
In the evening, return to your hotel. Take time for dinner at one of the many restaurants in Lakeside. Be sure to find time to spend just relaxing along Phewa Lake. Pokhara is often considered the highlight of anyone's adventure to Nepal because of its spectacular alpine beauty.
Paragliding Option: Those who would like to try paragliding can do so from Sarankot Hill. Paragliding is done in tandem with an experience pilot. It is a 30 minute glide over Phewa Lake where you soar like an eagle overlooking the snowcapped peaks of the Himalayas. It is safe and fun. There is an additional fee for those who want to do paragliding.
Hotel
Breakfast
Day 7: Drive Back to Kathmandu

We say goodbye to Pokhara as we board our luxury bus back to Kathmandu. It takes between 6 – 7 hours to return to Nepal's capital. We drive by terraced farms and through villages, rejoining the Trisuli River for our return trip. Upon return, there will be a little time for last minute shopping before our farewell dinner in the evening.
Hotel
Breakfast & Dinner
Day 8: Final Departure

After breakfast, we will be taken by our private vehicle back to Tribhuven International Airport for our departure back to Michigan. It's been an amazing trip all the way. We've made so many new friends, and have learned so much in the way of new cultures. Definitely a trip of a lifetime!
Breakfast
What is included?
All ground transfers as per itinerary by luxury car/van/jeep/bus
Hotel accommodation with breakfast (hotel standard is as per your choice)
Sightseeing as per itinerary
English speaking tour guides
All jungle activities including Jungle walk, Canoeing and Elephant ride
Lunch and dinner in Chitwan
National Park entrance fees
Cable car ride
Entrance fees to monuments and temples
Welcome and farewell dinner
What is not included?
Lunch and dinner except mentioned in itinerary
Travel insurance
Nepal visa fee
Expenses of personal interest (bar, laundry, telephone and activities unless stated in itinerary)
Tips for
Trip at a Glance
Trip Name: Nepal Classic Tour
Trip Code: TMTP-01
Trip Duration: 8 days
Activities: Cultural Tour
Accommodation: Hotel
Meals: As per mentioned in Itinerary
Transportation: Private Vehicle/Tourist bus
Best Season: September to June
Country: Nepal
Group size: Any