Island Peak Climbing With EBC Trek
Island Peak Climbing With EBC Trek
Trip at a Glance
Trip Name: Island Peak Climbing With EBC Trek
Trip Code: TMPC-02
Trip Duration: 20 days
Trip Grade: Challenging
Activities: Peak Climbing, Trekking
Accommodation: Hotel/lodge/ Tent
Meals: Breakfast in Kathmandu, all meals during the trek
Transportation: Private vehicle & domestic flight
Best Season: Spring & Autumn
Country: Nepal
Max Altitude: 6,189m
Group size: Min – 2
Trip Overview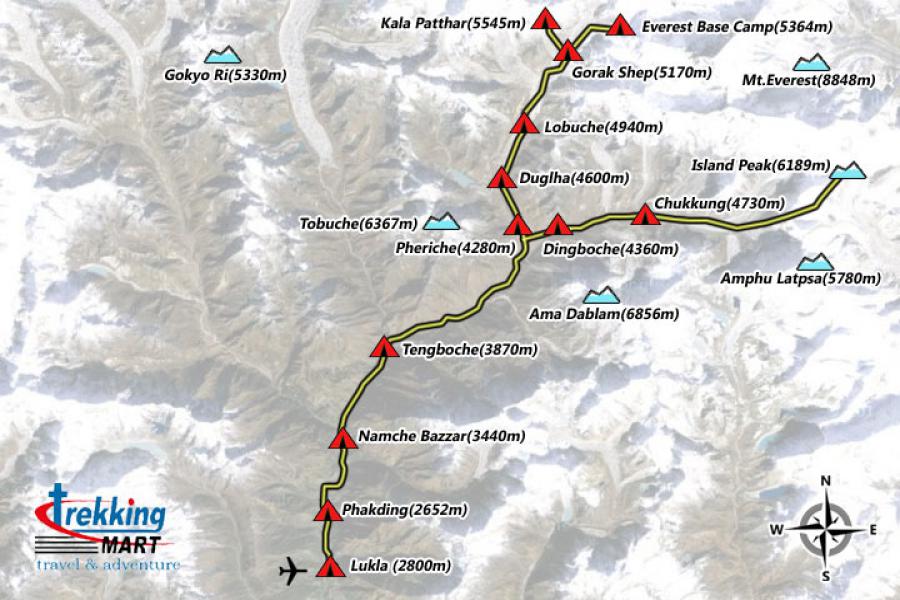 Island Peak (6,169m): also known as Imja Tse is one of the popular trekking peaks of Nepal for climbing on Himalayas. Along with most enjoyable climbing experience, Island Peak presents some of the most spectacular scenery of leading mountains in Khumbu region. From Dingboche, the view of this peak gives an impression of an island in a sea of ice. The semi-circular panorama of Everest (8,848m), Nuptse (7,879m) and Lhotse (8,516m) to the north, Makalu (8,463m) to the east and Ama Dablam (6,812m) to the south adds more charm in climbing the peak. For many mountaineers, Island peak be the beginning of climbing for bigger mountain expeditions. For some Island peak stands for the purpose of acclimatizing before heading to higher elevation climbing. And for Island peak climbing, Kala Patthar or Everest Base Camp Trekking is most suitable to fit your body and mind.
Trekking Mart organizes 20 days Island Peak Climbing package. The normal route for climbing this peak is South East Flank & South- West Ridge with the Island peak base camp (5,087m), between Imja Tse and the lateral moraine of the Imja Glacier. From the base camp, a well acclimatized party in good conditions can make the summit and return to base camp in a day. However, most of the climbers prefer alpine camping at high camp which adds the joy of climbing and helps in safe ascend too.
Day 01: Arrival Kathmandu (1,350m), transfer to hotel, welcome dinner
One of our representatives will meet you at the arrival gate with the sign board for Trekking Mart. You then transfer to hotel and spend the rest of time at leisure. In the evening you are collected from your hotel and taken for a welcome dinner at a traditional Nepali restaurant where you can enjoy delicious and authentic Nepali food followed by a cultural dance presentation. Meal: Dinner.
Day 02: Kathmandu Sightseeing tour and trek preparation
Breakfast in your hotel is followed by sightseeing around the UNESCO world heritage sites of Kathmandu. The monuments we cover are Swyambhunath: the monkey temple and Kathmandu Durbar Square: ancient royal palace. Afternoon will be pre trip orientation, necessary preparation and equipment's arrangement. Meal: Breakfast.
Day 03: Fly to Lukla (2,800m) and trek to Phakding (2,652 m): 35 minute flight and 3-4 hours trek
By the morning flight we fly to fascinating valley of Lukla. This is one of the most scenic air routes in the world. Reaching Lukla, we trek upward heading towards the village of Phakding. To support our acclimatization, we only have a short walk today. Overnight in Phakding. Meals: Breakfast, Lunch and Dinner.
Day 04: Trek from Phakding to Namche Bazaar (3,440 m): 5-6 hours trek
After breakfast, we take short walk up & downhill with multiple crossing over Dudh Koshi River and enchanting view towering Mt. Thamserku. We cross more suspension bridges and reach to the entrance of Sagarmatha (Everest) national park at Monjo. Passing though river bed and short hikes takes us close to Namche Bazaar. Namche is the main gateway to Everest region. Overnight in Namche Bazaar. Meals: Breakfast, lunch and dinner.
Day 05: Acclimatization Day in Namche Bazaar
Today we take a day of rest at Namche Bazaar (3,440m) and allow our body to acclimatize with that altitude. If you are interested, hike to Khumjung (3,786m) and explore monasteries and local villages. Namche itself is a famous town with modern facilities. Enjoy your visit around the village and overnight stay. Meals: Breakfast, lunch and dinner.
Day 06: Trek from Namche Bazzar to Tengboche (3,870m): 4 to 5 hours trek
Breakfast is followed by heading towards Tengboche (3,870m) enjoying superb view of Mt. Everest (8,848m), Nuptse (7,879m), Lhotse (8,516m), Ama Dablam (6,812m) and Thamserku (6,623m). Along the way you will see wildlife like Pheasant, Musk Deer or a herd of Himalayan Thar. Tengboche has one of the biggest Buddhist monasteries in Khumbu region decorated by panoramic Himalayas. Overnight in Tengboche. Meals: Breakfast, lunch and dinner.
Day 07: Trek from Tengboche to Pheriche (4,200m): 4 hours trek
On warm morning light, visit around Tengboche monastery. After breakfast continue trek on descending down to riverside, cross the river and trek up towards the traditional and cultural Sherpa village Pangboche. We continue towards the wide village of Pheriche located on riverside. Overnight in Pheriche. Meals: breakfast, lunch and dinner.
Day 08: Trek from Pheriche to Lobuche (4,930m): 4-5 hours trek
After breakfast we start an easy and straight walking towards river and walk to Dugla. We continue for couple of our trek to Lobuche for overnight stay. Meals: breakfast, lunch and dinner.
Day 09: Trek from Lobuche to Everest Base Camp (5,364m) and back to Gorak Shep (5,170m): 6-7 hours trek
We trek to Gorak Shep, put your baggage in a lodge and then continue trek to Everest base camp. The trail changes every year due to the movements of the glacier. The walk is quite strenuous due to thin air at high altitude, passing through rocky dunes, moraine and streams. Everest base camp is one of the iconic places to see most of top mountains. We get back to Gorak Shep for an overnight stay. Meals: breakfast, lunch and dinner.
Day 10: Hike to Kala Patthar (5,545m) and trek to Lobuche: 6-7 hours trek
We start early morning to catch the remarkable view of Everest from Kala Patthar. It takes 1:30 hours to reach the top, sit on Kala Patthar rocks and admire the incredible Himalayan Panorama. You can take as many pictures as you can with your camera for lifelong memories. Trek back to Gorak Shep, eat breakfast and start gradual descend down to Lonuche for an overnight stay. Meals: breakfast, lunch and dinner.
Day 11: Trek from Lobuche to Chhukung (4,730m): 4-5 hours trek
Leaving Lobuche, we descend down to Dingboche (4,410m) and continue through stone walled path, river valley and glacier moraine. Ama-Dablam and Lhotse surrounds us throughout journey. From Bibre village, we can see towering Island peak, feels like heartily welcoming us. Crossing 2-3 more streams, we reach to Chhukung, a small settlement located exactly at the lap of Ama-Dablam. Overnight at Chhukung. Meals: breakfast, lunch and dinner.
Day 12: Rest day: hike to Chhukung Ri (5,550m): 3-4 hours trek
Today we take a day rest to acclimatize our body to the elevation. Instead of staying idle, hike to Chhukung Ri (5,550m). It is an appreciative viewpoint located directly above the Chhukung village. Back to the village, roam around and overight stay. Meals: breakfast, lunch and dinner.
Day 13: Trek from Chhukung to Island Peak Base camp (5,200m): 3-4 hours trek
We start early in the morning to make our key day a solid journey. Island peak base camp is going to be our today's destination. We will walk through frozen Lhotse glacier and enter into the wide valley to the southwest side of Island peak. Overnight at Island peak base camp. Meals: breakfast, lunch and dinner.
Day 14: Trek form Island Peak Base Camp to High Camp (5,600m): 2 hours trek
We trek to the high camp for an overnight stay or just acclimatization and head back to base camp for acclimatization and training. Meals: breakfast, lunch, and dinner.
Day 15: Summit Island Peak (6,189m), trek back to Chhukung: 8-10 hours trek
Today we begin our climb early around 1 AM. After the climb through the rock gorge the route leads to an exciting pass onto the nose of the summit glacier. We need to rope up for the glacier as it contains several crevasses. Guides will fix a rope wherever necessary. A steep snow slope leads us onto the summit ridge. After enjoying the summit views and taking pictures, we descend all the way to Chhukung for overnight stay. Meals: breakfast, lunch, and dinner.
Day 16: Extra day in case of bad weather or any other unforeseen event
An extra day is always good in case if you are unable to summit the Peak on schedule due to bad weather condition or some other reasons. If trip goes smoothly, we can reduce this day. Meals: breakfast, lunch, and dinner.
Day 17: Trek from Chhukung to Namche Bazaar: 7-8 hours trek
After your dream come true, it would be satisfying walk down to Namche Bazaar. Passing Dingboche, Pangboche, Tengboche village, our returning journey will be fanciful by the shadows and sparks of mountains. We will have a night of rest at Namche Bazaar. Meals: breakfast, lunch and dinner.
Day 18: Trek from Namche Bazaar to Lukla: 6 hours trek
Entertaining unspoiled environment, we will trek all the way down to Lukla valley. Interact with locals, admire their unique lifestyle and celebrate your last night at Everest region. Meals: breakfast, lunch and dinner.
Day 19: Fly from Lukla to Kathmandu
By the morning flight, fly back to Kathmandu. A representative from Trekking Mart will pick you up at Kathmandu airport and shift to your chosen hotel. Enjoy the day on rest. At the evening, we will celebrate our success with farewell dinner at a typical Nepali restaurant. Meals: breakfast and dinner.
Day 20: Final departure
Today, you are going to depart from this Himalayan country. Once again, we congratulate you for your successful summit of Island Peak. At about 3 hours prior to your flight time, transfer to airport and fly to your onward destination.
Airport pickup and drop
Kathmandu sightseeing
Kathmandu-Lukla-Kathmandu flight
4 nights hotel in Kathmandu with breakfast (Hotel standard is as per your choice)
Lodge to lodge accommodation during trekking
Tented camp accommodation in climbing session
Breakfast, lunch and dinner during the trek and climb
Experienced English speaking climbing (4 Trekkers 1 climbing guide)
Cook and assistant and porters to carry luggage (2 trekkers=1 porter)
Salary, insurance, food and lodging for staff
TIMS, Peak permits and National park fees
Tents and mattress for camping
Excess baggage Cargo to Lukla
Fixed and main rope
Crew member's insurance
Climbing guide allowances
Welcome dinner
Lunch and evening meals in Kathmandu unless welcome dinner
Travel and rescue insurance
Personal expenses (phone calls, laundry, bar bills, battery recharge, Bottled or boiled water, shower etc.)
Personal climbing equipments
Tips for guides and porters
Equipment's Check List
Trekking Mart has listed here some of the basic suggested equipment's' check list for Island peak climbing. Some equipment can hire in Kathmandu as well. Click here for suggested check list.
Useful Info
Trekking Mart likes to make our clients know much thing about the trip before they leave for it. We genuinely focus on your level of alertness about all trekking and climbing procedures. Read more