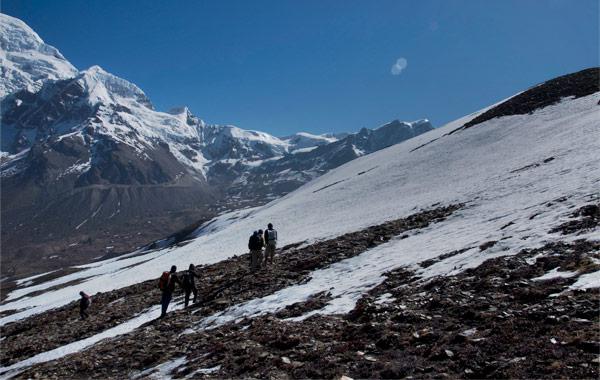 Kathmandu, Nov 14
Annapurna: itself a brand name of panoramic mountain range and rewarding trekking routes. Nepal's Annapurna circuit trekking trail is one of top destination amongst trekkers and adventure seekers of around the Globe. Along the northern side of western Nepal, the circuit trail runs through infamous Himalayas and summits at 5,416m (Throng-la pass). The widely chosen Annapurna circuit trekking is actually quite, safe, relatively simple and well decorated with rich natural and cultural heritages.
To attain fame in such a considerable account is really a powerful asset of Nepal's tourism industry. The nature, local tradition, adrenaline adventure spots and the biological vivid, is uplifting its value a higher and higher with the each forwarding bit of time. Some of the best things that Annapurna has to offer you are listed as below:
1. Series of mountains
Trekking to Annapurna is a chance to entertain series of more than a hundred of mountains. Including Annapurna I (8,091m- 10th highest mountain in the world), Dhaulagiri (8,167m-7th highest), Manaslu (8,156m-8th highest), holy peak Fishtail and others; you get to experience their lovely company.
2. Glorious Sunrise/sunset
Thorong-la, Poon-Hill and some other points of Annapurna offers the colorful sunrise and sunset view over the sky touching mountains.
3. Thorong-la pass (5,416m)
Thorong-La pass is the highest and the most appreciative viewpoint of Annapurna trekking. One of the most difficult trekking pass is a best place to experience the acute alpine environment.
4. Lakes/ Glacial lakes
The circuit trail covers blue lakes and crystal glacial lakes including Tilicho (lake of highest altitude in the world) and some others.
5. Muktinath Temple (place of liberation)
Muktinath temple is one of the eight most sacred shrine of Hindu religion at an elevation of 3,710m. This is supposed to be a "Place of liberation" where one can wash their sins of wrong deeds and be liberal. Buddhists also visit this as a most valued shrine.
6. Marpha village-apple farm
Marpha village of Mustang district is famous for its local community and tasty apple production. The vivid culture and beautiful apple farm is one of the best thing, the Annapurna could offer you.
7. Mountain Sherpas
Sherpas are known as the peoples of mountains and the brave climber. In expedition and mountains tourism sector, Sherpas has sketched lots of world records. There fame is boosted by their unique cultural tradition and lifestyle too. During the Annapurna trekking, you could interact with brave Sherpas along with their settlements patterns.
8. Yak/ mountain sheep
Yak and mountain Sheep grazing on the pastures, is one more thing to see in Annapurna. These animals are good for milk and milk products, meat, wool and animal transport.
9. Ethnic Gurung villages
The ethnic Gurung village of Ghandruk is widely famous for cultural and community wealth. Their lifestyle, cultural heritage, helpful society and traditional housing pattern are a new thing that a tourist could enjoy.
10. Natural hot spring
The super natural creation- natural hot spring of Tatopani is an amazing thing that one can experience here. It's rare chance to take a bath on naturally warmed water.
11. Courageous Himalayan trail
Annapurna has rewarding destination in Nepal and world as well. The Himalayan trails of in and around Annapurna are best for courageous mountain and hiking experience. It makes you outdoor dreams a real life.
12. Lake city Pokhara
Pokhara- a touristic hub center of Nepal filled with lakes, caves and dramatic natural scenarios. Lake side city, Gurung culture, old bazaar and musical night life are the human assets of the destination. For your peaceful experience, Pokhara is also a best of Annapurna.
To experience and entertain all these "Best of Annapurna" visit our:
Annapurna circuit trekking
Thorong La pass trekking
To join other Nepal trekking package, Please Contact us.