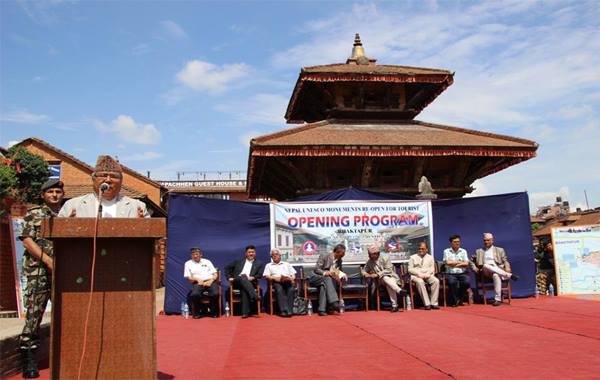 Kathmandu, June 28
Nepal government officially reopened six UNESCO world heritage sites within Kathmandu valley. By massive earthquakes of 25th April and 12th May, several historical monuments of the sites were damaged and so these were closed for visitors. By means to attract foreign visitors and enhance tourism in the country these were reopened despite safety concerns raised by UNESCO.
In a program organized at Bhaktapur Durbar Square held by "Ministry of Culture, Tourism and Civil Aviation" on 15th June, the reopening of sites was announced. The reopened heritages are three Durbar Squares namely: Kathmandu Durbar Sqaure, Patan Durbar square and Bhaktapur Durbar Square, One Hindu temple: Pashupatinath Temple and two Buddhist stupas: Swyambhu and Boudhnath stupa.
Tourism is one of the badly-hit sectors by earthquake in Nepal. It has caused loss of almost 800 million U.S dollars in tourism. Together Nepal needs 413.3 million U.S dollars for rebuilding and renovating damaged structures. So, in these tragic moments reopening of heritages might flow the positive messages to the international market. "Entering to some sections of sites has been restricted to ensure safety precautionary measures and also to preserve valuable arts and artifacts"- Nepal Tourism Board (NTB) stated.
So, Nepal has already back into business and is waiting to welcome national and international visitors. To make all clear, only a fraction of Nepal was hit by earthquake and others are still as beautiful as before. By now the suffered areas are also recovered and are visit able. The reopening of these UNESCO sites is the strong proof of this statement. Visit Nepal-explore our heritages.