Ganjala Pass Trekking-14 Days
---
Trip Overview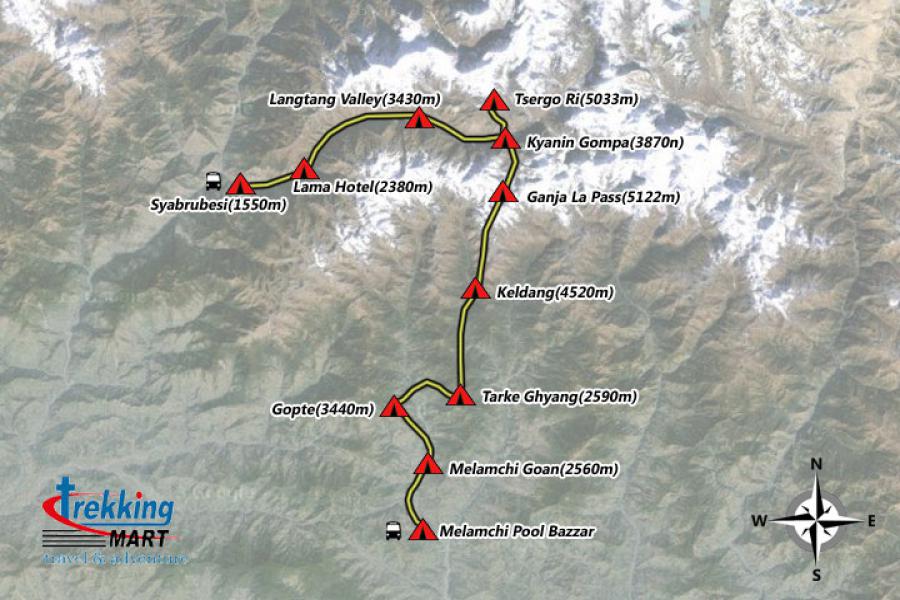 Langtang Ganja La Pass Trekking is 14 days trekking in Nepal that takes you to the famous Langtang valley and the Ganja La pass (5,122m). Moreover, we also make an interesting excursion to Tserko Ri (4,984m) which offers tremendous views of the Langtang Himalaya range. The attraction of the Langtang region is that it's so close to Kathmandu valley and yet it is as wild as any Tibetan highlands. Langtang region is also famous for its Gosaikunda Lake. Moreover, the company of green rhododendron and bamboo forests, majestic waterfalls, and the snow-capped Himalayas make the trek one of the most diverse treks near Kathmandu. The people living the highlands of the Langtang region are certainly the Nepalese, being the descendant of the Tibetan origin, they still look like Tibetans.
We start the trip with the drive from Kathmandu to Syabrubesi. Driving time is about 6/7 hours in the snaky road. Langtang Ganja Pass trek begins from Syabrubesi, via the Kyanjin Gompa crosses the mighty Ganja La pass (5,122m), and ends at the Melamchi Pul Bazar in the Helambu region. Toward the end of the trip, you will also trek through some beautiful rice terraces and a number of splendid Buddhist monasteries around the delightful villages of Tarke Gyang and Sermathang before heading back to Kathmandu by a drive.
Detailed Itinerary
---
Day 01: Arrival in Kathmandu (1,300m), transfer to hotel

Arrival in Kathmandu Tribhuvan International Airport. Your first day will be a relaxed day as you check into your hotel and enjoy a welcome dinner where you will meet your guide for the upcoming trek.
Hotel
Dinner
Day 02: Kathmandu sightseeing & trek preparation

Today after breakfast, we start a guided tour to several of the most historical and spiritual attractions in Kathmandu. The day will also be for finalizing official procedure and other necessary arrangements. You will be also briefed on the nature of the trek, equipments and team composition. Some of landmarks we visit include the World Heritage Sites are Kathmandu Durbar Square, the sacred Hindu temple of 'Pashupatinath', the famous 'Monkey Temple' (Swayambhunath) and Buddhists shrine (Boudhanath). In the afternoon, there will be a pre-trip discussion where we can meet our trek leader and other team members. You can also make your last minute buying of personal items as you will be flying to the Himalayas tomorrow.
Hotel
Breakfast
Day 03: Drive to Syabrubesi (1,550m): 145 km/ 7 hrs

After morning breakfast we drive out along the north-western hills of Kathmandu. Enjoy the Himlayan views and mountainous lifestyle through the terraced fields and rustic villages. Take Lunch at the Trishuli Bazar before continuing further t Dhunche (1,960m). From Dhunche, we descent down to Syabrubesi.
Lodge/Guesthouse
Breakfast, Lunch & Dinner
Day 04: Trek to Lama Hotel (2,380mt): 6 hrs

This is our first day of trekking today. We follow the Langtang Khola River and pass through the dense forests. Cross several suspension bridges. We also pass by a tea houses. The trail goes up and down but it's not that challenging. Meal inlcuded: Breakfast, lunch and dinner.
Lodge/Guesthouse
Breakfast, Lunch & Dinner
Day 05: Trek to Langtang village (3,430m): 6/7 hrs

After taking morning tea, we embark our second day of the jouney. Our trail continues along dense forests. After making a steady climb up through the valley, we leave the tree line behind us. Enjoy the marvelous views of Langtang Lirung (7,227m). Pass by water mills, prayer wheels, chortens, with sacred mounds of rocks with inscriptions carved on them.
Lodge/Guesthouse
Breakfast, Lunch & Dinner
Day 06: Trek to Kyanjin Gompa (3,870m): 3-1/2 hrs

After taking morning tea and breakfast, we get out of the village and pass on through yak pastures. We also pass the largest mani wall in Nepal, made from stone with prayers written on them. The prayers written on the mani wall is supposed to be blown away by the wind. Cross several of the wooden bridges. Since, we are really getting into the high altitude; you might start feeling the thin air.
Lodge/Guesthouse
Breakfast, Lunch & Dinner
Day 07: Excursion to Tsergo Ri (4,984m) and back to Kyanjin: 7/ 8 hrs

Today, we make an excursion to Tsergo Ri which would also help us to acclimatize. The climb to Tsergo Ri which is about 5 thousand meters offers a magnificently panoramic views of the Himalayas. Besides, the climb to Tsergo Ri is a challenging one and the time for the climb depends upon your physical fitness and previous experience. By evening, we return back to Kyanjing Gompa.
Lodge/Guesthouse
Breakfast, Lunch & Dinner
Day 08: Trek to Ganja La phedi (4300m): 5/6 hrs

Taking today's breakfast, we embark on our today's journey to Ganja La Phedi. We cross the Langtang River and ascend through rhododendron forests. Since, we're already in high altitude; the time for getting to our destination also depends upon the season of the trek. Since, during the winter snow, it might take longer time to cross the snow strewn path.
Lodge/Guesthouse
Breakfast, Lunch & Dinner
Day 09: Cross Ganja La pass (5130m) and trek to Keldang (4250m): 6/7 hrs

Today we cross the Ganja La pass (5,130m). It'd be a strenuous day since Ganja La is one of the difficult passes. Ganja la pass is covered with snow almost throughout the year. We make the long ascent through the boulders, pass the small lakes, and summit the Ganja La which is situated on a rocky moraine. Enjoy the spectacular views from the pass. Climbing up and down the pass can sometimes be tricky due to snowfall and ice. From the pass, we descend down to Keldang. Meal inlcuded: Breakfast, lunch and dinner.
Lodge/Guesthouse
Breakfast, Lunch & Dinner
Day 10: Trek to Yak Kharka (4000m): 5/6 hrs

Trek from Keldang to Yak Kharka. From Keldang, we descend further down following a prominent ridge line. In our 5-6 hrs trek today, we continue losing our altitude through forests, ridges, and grasslands.
Lodge/Guesthouse
Breakfast, Lunch & Dinner
Day 11: Trek to Tarke Gyang(2,590m): 5/6 hrs

Today, we lose altitude considereably, about 1500 meters. The trail would be similar, except that as you descend lower, you will notice more vegetation.
Lodge/Guesthouse
Breakfast, Lunch & Dinner
Day 12: Trek to Sermathang(2,610m): 3/4 hrs

We cross small forest with the view of beautiful village of Helembu region. The trail makes a sweep around the wide valley end between Parachin and the pretty Sharpa village of Gangyul. The people of this village practice Drukpa Kagyu Buddhism, the same as the national religion of Bhutan.
Lodge/Guesthouse
Breakfast, Lunch & Dinner
Day 13: Trek to Malemchi Puul Bazaar: Drive to Kathmandu: 3/4 hrs trek & 2 hrs drive

On our final day of the trek, we walk down to Malemchi Pul Bazaar with many Sherpa village. From the Bazaar, catch the bus to Kathmandu.
Hotel
Breakfast and Dinner
Day 14: Final departure transfer

At about 3 hours prior to your flight time, we transfer you to the airport to fly your onward destination. Trekking Mart family wishes your best time ahead.
Breakfast
What is included?
All ground transfer as per itinerary
Kathmandu sightseeing tour by car
Hotel in Kathmandu with breakfast
Meals (Breakfast, Lunch, Dinner) during the trek
Lodge to Lodge accommodation during the trek
"Langtang National Park" Entry Permit
TIMS (Trekkers' Information Management System) fee
An experienced English speaking trekking guide
Porters to carry luggage (2 trekkers=1 porter)
Staff food, accommodation, salary & insurance
All governmental procedure
Applicable Taxes
Rescue arrangement in case of emergency
Welcome dinner
What is not included?
Bar, laundry and telephone bills, travel insurance, rescue evacuation in case of emergency
Lunch and dinner in Kathmandu including farewell dinner.
Trip at a Glance
Trip Name: Ganjala Pass Trekking-14 Days
Trip Code: TMLR-02
Trip Duration: 14 days
Trip Grade: Strenuous
Activities: Hiking/Trekking Tour
Accommodation: Hotel/ Tea house/ Tent
Meals: All meals during trekking & breakfast in Kathmandu
Transportation: Private car/ Tourist bus
Best Season: Autumn & Spring (Other season: Considerable)
Country: Nepal
Max Altitude: 5,122m (Ganja La Pass)
Group size: Any