Mera Peak Climbing
---
Trip Overview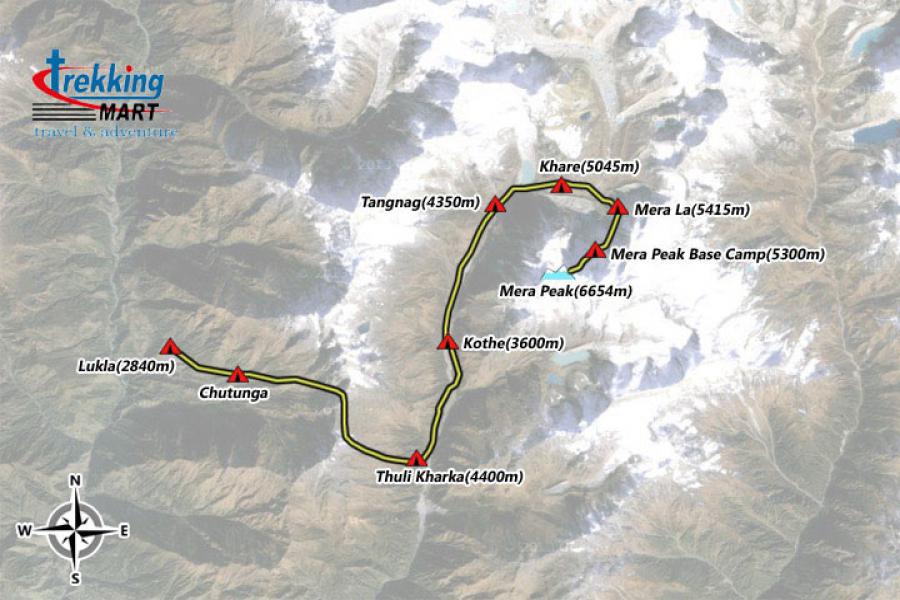 Trekking Mart's 19 days Mera Peak Climbing is the perfect way to experience the alpine environment and Nepalese Himalaya glaciers. Mera Peak (6,654m) is the highest among the trekking peaks in Nepal. So, we don't need the special mountain climbing permit for it. Mera is one among the challenging climbing peaks in Nepal, but the scintillating view of Mt. Everest (8,848m) and the Khumbu valley worth your efforts. From the peak, one can see five of the world-leading mountains including Mt. Everest (8,848m), Kanchenjunga (8,586m), Makalu (8,481m), Lhotse (8,516m) and Cho-Oyu (8,201m).
The trail to Mera Peak will take you through some beautiful mountain valleys as the path turns upward to the peak. It is a challenging hike although the slope is never above 40 degrees. Altitude can be a problem, but the trek is taken slowly in order to allow your body acclimatizes to the high elevation. While planning for this high altitude trekking, it is advisable to be in good physical condition. For most, Mera is a lifetime adventure with an excellent experience of stepping into the end of the world.
Detailed Itinerary
---
Day 01: Arrival Kathmandu airport (1,350m), transfer to hotel

One of our representative will meet at the arrival gate with a signboard for Trekking Mart who will take you to the chosen hotel. The rest of the day can be spent at leisure. In the evening you are collected from your hotel and taken for a welcome dinner at a traditional Nepali restaurant where you can enjoy delicious and authentic Nepali food followed by a cultural dance show.
Hotel
Dinner
Day 02: Kathmandu sightseeing and trek orientation

Our 2nd day is featured by historical tour to some of the UNESCO world heritage sites of Kathmandu. An expert city guide will guide you to Swyambhhunath: a magnificent Buddhist Stupa and Kathmandu Durbar Square: home of Living goddess Kumari. In afternoon, there will be pre-tip discussion, where you can meet your trekking leader and crew members. Some of the equipment can be hire or buy in Kathmandu as well.
Hotel
Breakfast
Day 03: Flight to Lukla Valley (2,840m), trek to Chutanga (3,050m)

In the morning, we fly to Lukla. This 30 minute scenic flight gives you the glimpse of what you are going to see during your whole trek. From Lukla, we trek through the fields and forests passing Yak postures and teahouses. We reach to Chutunga (3,100m) village to stay today.
Lodge/Guesthouse
Breakfast, Lunch & Dinner
Day 04: Chutanga: acclimatization day

While on high altitude climbing, acclimatization is must. Today, we are not going ahead but we do explore around village, Zetra La and the Rhododendron forest. We can see brightly colored Himalayan pheasants that keep to the forests for cover. The rest of the day is spent relaxing and enjoying the views.
Lodge/Guesthouse
Breakfast, Lunch & Dinner
Day 05: Trek from Chutang to Tuli Kharka (4,400m)

We cross Zetra La pass. After the pass we take gentle walk and stop for lunch just above the tree line, the trail is steep and rocky. From the pass we get great views of the surrounding peaks. Then we slowly make our way across the rocky flats and passes, gradually descending to Thuli Karka. Overnight stay at local Lodge.
Lodge/Guesthouse
Breakfast, Lunch & Dinner
Day 06: Trek from Thule Karka to Tashing Ongma (3,600m)

Today will be one of our longest walking days, mostly downhill. Pass through the flats and trek uphill until we gain our first view of Mera Peak. From here, we drop down into the isolated Hinku Valley. We then, ascend a steep section of trail until we enter the forest where we will stop for lunch. Finally we will trek down into the Bamboo forests and turn up along the west side of Hinku River towards Tashing Ongma. Overnight stay at a lodge.
Lodge/Guesthouse
Breakfast, Lunch & Dinner
Day 07: Trek form Tashing Ongma to Tangnag (4,350m)

As we continue up, the amazing mountain views welcome us. The trail gently climbs up along the west bank of Hinku River with spectacular Mera Peak to the east and Mt. Kusum Kangari to the west. In the afternoon, we will cross meadows hill slopes until reaching to Tangnag village. Overnight at a local lodge.
Lodge/Guesthouse
Breakfast, Lunch & Dinner
Day 08: Acclimatization day at Tangnag

This is one more rest day to let our body recover from the past days of hiking. Relax; see beautiful mountain serenity, glacial lakes and all around fresh looks. Overnight at Tangnag.
Lodge/Guesthouse
Breakfast, Lunch & Dinner
Day 09: Trek from Tangnag to Khare (5,100m)

Today we are going to exceed 5,000m. It is short climb but we take it slowly. We go through east of Tangnag along the side of Dig glacier, we can enjoy view of pristine Sabai Tso glacial lake. A drop in the lake level caused by a rupture of the recent dam is clearly visible. We will arrive at Khare for lunch. Khare offers stunning north face of Mera Peak and Mera glacier spills steeply down into the valley. Overnight at a local lodge.
Lodge/Guesthouse
Breakfast, Lunch & Dinner
Day 10: Acclimatization Day at Khare

Our staff will setup base camp at Khare. In the morning we head up about 200m to the foot of Mera glacier, where we practice rope work and use crampons and ice axes. We will return to Khare for lunch. We'll spend the afternoon resting for the upcoming climb. Overnight stay at Lodge.
Lodge/Guesthouse
Breakfast, Lunch & Dinner
Day 11: Trek from Khare to Mera La (5,415m)

Today we travel a short distance, slowly ascending up onto the Mera glacier. Initially, the climb is steep; we cross a long flat on top of the glacier as we make our way to Mera la pass (5,415m). From the pass, the remaining route to summit is clearly visible. We will have lunch at Mera La and spend rest of the day on relax and staying warm. Overnight stay in tented camp.
Lodge/Guesthouse
Breakfast, Lunch & Dinner
Day 12: Trek from Mera La to High Camp (5,780m)

Today we head to Mera high camp (5,780m). It is short but steep up, so we make it slowly in order to be safe with acute mountain sickness (AMS). High camp is nestled behind a large rocky outcrop. By lunch time, we complete the journey. Our crew members will feed you freshly cooked food and spend rest of the time relaxing and further acclimatizing.
Notice: After lunch, our climbing guide will give a technical demonstration using climbing gear such as ice axes, climbing boots, crampons, harness and ascender, plus how to go up and down using ropes. We believe that this training session will enhance your confidence, giving you an increased chance to reach the summit.
Lodge/Guesthouse
Breakfast, Lunch & Dinner
Day 13: Summit Mera Peak (6,654m), trek to Khare

This is the biggest day of our entire trip as we are going to summit Mera today. We start early in the morning and continue up the glacier and onto the peculiar ridge. The first striking sunrays over the peaks seem unbelievable. Just behind the summit, the slope steepens and at this section we may have to fix rope depending on the conditions. From the peak, our challenging effort rewards the eye appealing view of spectacular Mt. Everest (8,848m) and Lhotse (8,516m) to the north, Cho Oyu (8,210m) to the northwest and Kanchenjunga (8,586m) and Makalu (8,481m) to the east. Descending, we retrace our steps back to Mera La for lunch and onwards to Khare for an overnight stay.
Lodge/Guesthouse
Breakfast, Lunch & Dinner
Day 14: Extra day

At the wild mountain, there is no any guarantee of summit the peak as per our plan. So, we keep this a day extra for any unexpected happening. If weather or any other reason causes exceptionally terrible then, we may have to postpone our summit on day 14. Sometime health problem do not allow in making ascend. If trip goes smoothly, we do not require this spare day.
Lodge/Guesthouse
Breakfast, Lunch & Dinner
Day 15: Trek from Khare to Kothe: 4-5 hrs

After the successful climbing of Mera Peak, we happy descend down to Hinku valley and eventually to Kothe for overnight stop. In the evening, taste local food and wine at the lodge.
Lodge/Guesthouse
Breakfast, Lunch & Dinner
Day 16: Trek from Kothe to Thuli Kharka: 5-6 hrs

Today also we continue back through the lush forest on the west side of the Hinku valley. The walk becomes so colorful by the varieties of rhododendron flowers. From Thuli Kharka, we can observe range of Mera Peaks like Mera North, Mera central and Mera South. Overnight stay at Thuli Kharka.
Lodge/Guesthouse
Breakfast, Lunch and Dinner
Day 17: Trek from Thuli Kharka to Lukla: 6-7 hrs

Return to Lukla valley passing Zetra la pass. For the last day, we again revise the appealing mountain serenity. From Zetra La, we walk all the way down to Chutanga and then an easy walk takes us to Lukla. Overnight at a local lodge.
Lodge/Guesthouse
Breakfast, Lunch & Dinner
Day 18: Fly back to Kathmandu

By the morning flight we fly back to Kathmandu. Trekking Mart will receive you at airport and shift to hotel. Rest and relax for the whole day. We will host a farewell dinner at the evening to celebrate your successful summit.
3/5***Hotel
Breakfast and Dinner
Day 19: Final departure transfer

At about 3 hours prior to your flight time, we transfer you to the airport to fly your onward destination. Trekking Mart family wishes your best time ahead.
3/5***Hotel
Breakfast
What is included?
Ground transfer by car/couch
3 Nights hotel in Kathmandu in twin sharing basis (Hotel standard is as per your choice)
Kathmandu - Lukla - Kathmandu flight
"Everest National Park" entry fee
Mera Peak permit
English speaking climbing Guide (leader)
Cook and kitchen helper
Porters to carry luggage (2 trekkers=1 porter)
Camping equipment: Such as sleeping, kitchen/dining and toilet tents and mattress, All kitchen equipments
Three meals during the trek and climb
Crew member's insurance
Climbing guide allowance
Farewell dinner
What is not included?
Lunch and dinner in Kathmandu except welcome dinner
Personal Climbing equipments
Personal expenses such as bar, telephone and laundry bills
Extra expenses is needed due to natural disaster and evacuation cost if needed
Any kind of travel insurance
Trip at a Glance
Trip Name: Mera Peak Climbing
Trip Code: TMPC-01
Trip Duration: 19 days
Trip Grade: Challenging
Activities: Trekking, Climbing
Accommodation: Hotel/Tea House/ Tent
Meals: Breakfast in Kathmandu, all meals during the trek
Transportation: Private vehicle & domestic flight
Best Season: Spring & Autumn
Country: Nepal
Max Altitude: 6,654m
Group size: Min - 1