---

Trekking Mart is a team of committed peoples from various destinations you will visit in Nepal. With the utmost support of qualified and professional personnel, we are providing high-quality support to our every guest over the last 17 years. We pride ourselves in being responsible for travel, we genuinely focus on optimizing our visitor's level of satisfaction.
Creative, friendly, enthusiasts and naturally aware people is the actual asset of Trekking Mart who all carrying the common goal of getting up to you. Meet our team.
| | |
| --- | --- |
| | Committed team with the purpose of meeting your dream together |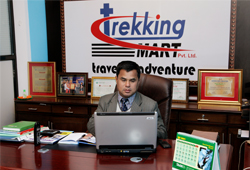 Gopal Babu Shrestha (Team Leader/ Owner)
Gopal Babu Shrestha started Trekking Mart over in 2000 AD to provide travelers to Nepal with a high integrity approach to tours and trekking tourism. He has quickly established himself not only as a leader in the industry but also as one of the most respectable trekking companies in the town.
He has been an active member of Trekking Agencies' Association of Nepal (TAAN), serving first in 2011-2012 as an executive member, and as a treasurer for 2013-2015.
He is the general secretary of Gorkha Tourism. Gorkha Tourism is another one of those volunteer organizations that Gopal has spearheaded in order to bring together others in the industry to work toward the development of economic growth for the underprivileged people of the district.
---
SagarShrestha (Director)
Sagar Shrestha is son my owner of Trekking Mart's Gopal Babu Shrestha. He is graduated with a bachelor in international; hospitality and tourism management from Silver Mountain School of Hotel Management, Kathmandu. Since his childhood he loves his father's professional in tourism, therefore we went to educate for the same. He got the opportunity to do an internship in Four Season Resort in Langkawi Malaysia from his collage. Afterward, he eagerly is looking forward to work in tourism as he enjoyed during his internship.
His father Mr. Gopal offers him a job at Trekking Mart after he finished the internship training program. He carries his study as well as the job at Trekking Mart. Since he joined Trekking Mart he loves traveling around the country with costumers. He trekked Annapurna, Everest, and Manaslu regions as well as the renowned tourist destination of Nepal. From Jan 2019 he is looking after the company's business on behalf of his father. He does plan and marketing of the business.
---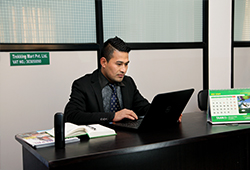 Bijan Shrestha (Operation Manager)
Bijan Shrestha was born in Gorkha, western Nepal is the backbone of all our ground handling. He loves traveling and has visited over many exciting trekking routes to the Himalayas. After his graduation in 2009, he joined Trekking Mart as an operation manager and since then he is being a great inspiration for our team.
He ensures the client's level of satisfaction in terms of comfort and experience. He schedules the trips and designates the required number of guides and porters for any trip. At the same time he does file management, handle bills and payments. Additionally other official work like in a bank, money changer or etc, he handles all.
On the other hand, he is a government licensed professional trekking guide as well. From the last few years, he has been guiding the clients from around the world into different areas of Nepalese Himalayas. He is a lover of trekking, nature, and adventure. The same passion motivated him to join our team. His responsible and reliable nature made him powerful assets of the company.
---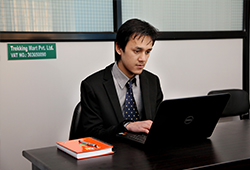 Ashish Shrestha (USA Representative)
Originally from Gorkha district, Nepal, Ashish is working with Trekking Mart since 2013 (now working from the USA). A graduate in Travel and Tourism Management, Ashish is knowledgeable and responsible for corresponding with clients, tour management and developing the contents of best utility.
He is a qualified tourism person for Trekking Mart. Soon after his graduation, he decided to move to USA (California) and work with Trekking Mart staying there. His responsibility includes designing travel packages like tours, trekking, safaris as per guest demand and corresponds with them. Updating the website with new products, destination development, overseeing the international steps in tourism development as well as communicating in key interests of the clients are the vital roles he has to perform.
Contact him in US: +1- 510 778 2516
---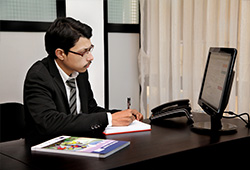 Rakesh Shrestha (IT Manager)
Rakesh Shrestha has been working in Trekking Mart as IT manager since 2013. Rakesh does the work on SEO (Search Engine Optimization) of the website, updating the web contents, creating graphics contents and planning new changes to keep up with the latest technology. He has completed web programming and designing courses, which make him technically knowledgeable in this field. Since he has become the part of Trekking Mart; he has good performance in the field of computer and technology and has been involved in keeping the website up-to-date and making sure there is smooth change over from the old system to the new one.
---
Rit Lamichhane (Trekking Guide)
Born in 1971 in Bageswori, Bhaktapur; the ancient city of Nepal. Rit has chosen trekking guide as a profession after he has completed his studies till intermediate level. He is a trained trekking guide certified by the government of Nepal in 1995 and since then he has been working in this field and develop himself as one of the best leaders in Nepalese Himalaya.
Since the establishment of Trekking Mart, Rit has joined us and helping in giving utmost travel experience to our every visitor. He speaks English and Hindi fluently other than his mother tongue Nepali. His long experiences in Nepalese tourism make him an expert about Nepalese culture, places, lifestyle, and mountain environment. Rit has taken the first aid training course, so have good knowledge about general medication and emergency evacuation.
---
K.B Tamang (Trekking Guide)
K.B has been working with Trekking Mart since 2010 as a senior trekking leader. He is a government certified trekking guide, working actively from the last 11 years. He can speak fluent English other than Nepali and his own native language Tamang. K.B was born in 1973 in Solukhumbu (Everest region). Since he was young, he started to work for travelers as a supporter and that's how his interest in tourism builds up.
He has guided trekkers to the different trekking regions of Nepal including Everest, Annapurna, Langtang and many more. He is well known about mountain culture, people, environment and landscapes. He likes to take care of his guests and he knows how he could make them feel comfortable during the trek.
---
---
Top